Unfortunately the demo is over at time of posting, but the sale is still on until tomorrow.

☆ NintendObs Weekly – Monday, March 18, 2019 – Sunday, March 24, 2019.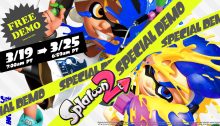 Have a friend who hasn't played the Splatoon 2 game yet? Good news, a Special Demo event will be happening from 3/19 7:00am PT to 3/25 6:59am PT! It's a great way to introduce them to the wonderful world of Splatoon!

The demo will include Regular Battles, Ranked Battles (once they've reached level 10), and Salmon Run, and demo players can play with players who own the full game. If demo players decide to purchase the full game, they'll be able to transfer their save progress over.

Participants will need an Internet connection and a Nintendo Switch Online membership to play. Fortunately, by downloading the demo from Nintendo eShop, you can receive a code for a free 7-day trial for Nintendo Switch Online!

Even if you've activated a previous free trial, you are still eligible for this trial too.
Code expires 3/25 at 7:00am PT.

As an added bonus, the digital version of Splatoon 2 will be available with a 20% discount on the Nintendo eShop starting 3/19 at 7am PT until 3/28 at 8:59 am PT.

— Squid Research Lab
Source: Splatoon's Tumblr.
At NintendObserver, the comments are on Discord.
Click on Community to learn more. 🙂
…
…Wanna play? Buy a Switch.
And if you've already got yours, click on Splatoon 2 for everything you need to know about the game. 😀