The final Kensa Collection is here. I wish they had more gear and more hairstyles, maybe even more songs, but this update marks the final new contents in Splatoon 2.

☆ NintendObs Weekly – Monday, December 3, 2018 – Sunday, December 9, 2018.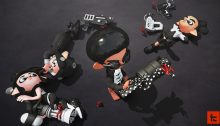 This evening, December 4th, the 4th set of Kensa Collection weapons will be added. These stylish special-ordered weapons feature a different combination of sub and special weapons than their non-Kensa equivalents.

These weapons all feature one of the recently announced sub or special weapons, including the Booyah Bomb, the Fizzy Bomb, the Ultra Stamp, or the Torpedo.

Kensa .52 Gal

This stylish shooter is the perfect polka-dotted pick for players who prefer to splat at mid-range distances. Its slow rate of fire is countered by its big damage! It comes with the Splash Wall sub and Booyah Bomb special.

Kensa Glooga Dualies

While these Kensa brand Dualies perform similarly to the Glooga Dualies, their striking black and white color scheme is all their own. These two-tone titans come with the Fizzy Bomb sub weapon and the Ink Armor special.

Kensa Mini Splatling

The Kensa Mini Splatling is a heavy-hitter, but it's got brains too, with the Toxic Mist sub weapon. Lock your opponents down with the Mist and then rush them down with the Ultra Stamp special weapon.

Kensa Rapid Blaster

Use the Kensa Rapid Blaster's Torpedo sub weapon to flush your opponent out, then splat them while they're on the move! Up against a group of enemies? Use the Baller special to put the pressure on!

— Squid Research Lab
Source: Splatoon's Tumblr.
At NintendObserver, the comments are on Discord.
Click on Community to learn more. 🙂
…
…Wanna play? Buy a Switch.
And if you've already got yours, click on Splatoon 2 for everything you need to know about the game. 😀