Right when the game launches on Nintendo Switch.

☆ NintendObs Weekly – Monday, October 22, 2018 – Sunday, October 28, 2018.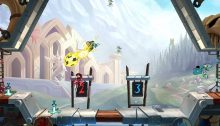 Rayman and Kung Foot Arrive in Brawlhalla November 6

October 25, 2018

Rayman is coming to Brawlhalla on November 6, and Brawlhalla is coming to Nintendo Switch and Xbox One the same day! As part of the launch celebration, we're adding a new game mode: Kung Foot! Based on the Kung Foot minigame from Rayman Legends, players compete to hit, kick, and blast a soccer ball into their opponent's goal while defending their own. Anyone who has played Kung Foot in Rayman Legends will be familiar with the game. Really, anyone who's ever seen a soccer ball will get the idea pretty quickly. One twist is that the more the ball gets hit, the farther and faster it travels, so things can get out of hand fast.

We've had a blast here at Blue Mammoth adapting Kung Foot to Brawlhalla. It's fun to rediscover each Legend's signature moves in this new context, and it's even more fun to confound your opponent with surprise angles of attack.

During the three-week Rayman event, Kung Foot will replace the Brawl of the Week, so you can queue for Kung Foot matches as well as play with your friends locally or online. The default mode is 2v2, but in couch mode and custom lobbies, you can create Kung Foot games with anywhere from two to eight players.

Rayman has a special place in my heart. We founded Blue Mammoth in 2009 to make great online games in the hand-drawn style we love. When Rayman Origins came out in 2011, it sent a breath of fresh air into the hand-animated adventure game genre, and was an inspiration to us. We're really happy to get to bring Rayman to Brawlhalla, and we hope you enjoy playing Kung Foot as much as we've enjoyed bringing it to Brawlhalla.

On November 6, Brawlhalla will be available on PS4, Xbox One, Nintendo Switch, and PC. As always, Brawlhalla is fully free to play, and of course Kung Foot is free as well. While I'm here plugging things, the Third Annual Brawlhalla World Championship is at Dreamhack Atlanta November 16-18, and check out brawlhalla.com and @Brawlhalla on Twitter for all the latest game news and updates. Thanks for playing, and see you in game!

— Matt Woomer, Managing Director, Blue Mammoth Games
Source: Ubisoft News.
At NintendObserver, the comments are on Discord.
Click on Community to learn more. 🙂
…
…Wanna play? Buy a Switch.
And if you've already got yours, click on Brawlhalla for everything you need to know about the game. 😀