Zeroara is also the Mythical Pokémon starring in Pokémon The Movie The Power of Us.

☆ NintendObs Weekly – Monday, October 15, 2018 – Sunday, October 21, 2018.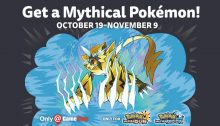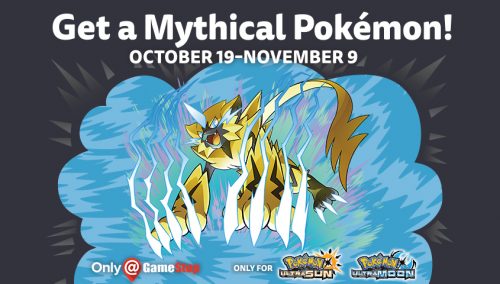 10.19.18

The lightning-fast Mythical Pokémon Zeraora zooms into your Pokémon Ultra Sun or Pokémon Ultra Moon game for the first time! To get the Mythical Pokémon, stop by your local participating GameStop store from October 19 to November 9 and pick up a code that will unlock Zeraora in your game.

This Zeraora knows its signature move, Plasma Fists—an attack so powerful it changes all Normal-type attacks into Electric-type attacks for that turn. Zeraora is also holding an Air Balloon, making it immune to Ground-type moves that would usually be super effective against the Electric-type Pokémon.

The chance to get Zeraora won't last long, so be sure to visit GameStop between October 19 and November 9, 2018. While you're there, don't forget to pre-order Pokemon: Let's Go, Pikachu! or Pokemon: Let's Go, Eevee! and receive an exclusive double-sided poster, only available at GameStop.

Zeraora

Lv. 50
Ability: Volt Absorb
Held Item: Air Balloon
Nature: Random

Moves:

Plasma Fists
Thunder Punch
Close Combat
Thunder

Use these steps, along with your code, to get Zeraora.

Open your Pokémon Ultra Sun or Pokémon Ultra Moon game.
Select Mystery Gift on the main menu.
Select Receive Gift.
Select Get with Code/Password, then Yes, then Yes again to connect to the internet.
Enter your code.
Watch as Zeraora arrives in your game.
Speak to the delivery person in any Pokémon Center to receive your Zeraora.
Be sure to save your game.

— Nintendo What's New
Source: Nintendo.
At NintendObserver, the comments are on Discord.
Click on Community to learn more. 🙂
…
And if you've already got yours, click on Pokémon Ultra Sun & Ultra Moon for everything you need to know about the games. 😀