Il n'y a qu'en Europe (en tout cas pas en Amérique du Nord) que Breath of the Wild a vu son prix soldé.

☆ Gazette NintendObs – lundi 19 novembre 2018 – dimanche 25 novembre 2018.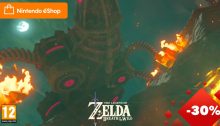 Chez NintendObserver, les commentaires sont sur Discord.
Cliquez sur Community pour en savoir plus. 🙂
…
…C'est pour jouer ? Achetez une Switch.
Et si vous l'avez déjà, ici se trouvent tous les jeux déjà disponibles sur la console. 😀