From November 20 to December 18.

☆ NintendObs Weekly – Monday, November 19, 2018 – Sunday, November 25, 2018.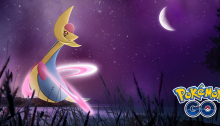 A new phase of Raid Battles begins with Cresselia!

November 20, 2018

Trainers,

As Pokémon's legendary year is coming to a close, there will be an exciting appearance of a Legendary Pokémon originally discovered in the Sinnoh region. The Psychic-type Legendary Pokémon Cresselia will join Raid Battles on November 20 at 1:00 p.m. PST! Details below:

Date + Time

Nov. 20, 2018, at 1:00 p.m. PST (GMT −8) to Dec. 18, 2018, at 1:00 p.m. PST (GMT −8)

Features

Cresselia will appear in Raid Battles!

Don't miss this chance to catch this Legendary Pokémon before it returns to its shrine! Stay safe, and happy exploring!

The Pokémon GO team

Source: Niantic.
At NintendObserver, the comments are on Discord.
Click on Community to learn more. 🙂
…
…Wanna play? Buy a 3DS.
That being said, click on Pokémon Go for everything you need to know about the game. 😀