The artwork for the Salsa vs. Guacamole Splatfest.

☆ NintendObs Weekly – Monday, November 12, 2018 – Sunday, November 18, 2018.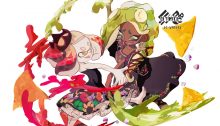 Splatfest is almost here! Are you fighting for the diced deliciousness of Team Salsa, or are you looking for an avocado advantage with Team Guacamole? Splatfest kicks off Friday, 11/16, at 8:00pm PT!

— Squid Research Lab
Source: Splatoon's Tumblr.
At NintendObserver, the comments are on Discord.
Click on Community to learn more. 🙂
…
…Wanna play? Buy a Switch.
And if you've already got yours, click on Splatoon 2 for everything you need to know about the game. 😀