Acorns are another currency that players can earn by playing Trials Rising and completing special contracts or competing in online multiplayer seasons. Players can also purchase Acorns using real money.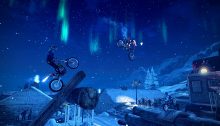 Trials Rising – Customization and Progression Q&A

September 07, 2018

Trials is known for wild tracks and outlandish obstacles, but the series' approach to competition has always been grounded. In Trials Rising, all bikes and tracks will be unlockable through in-game progression, ensuring that all players are on equal footing as they strive for glory and leaderboard status. But that doesn't mean every rider will look the same as they streak across the finish line – creative customization options will enable Trials Rising riders to add more flair to their motorcycle antics than ever before. In anticipation of the Closed Beta for Trials Rising, the development team has prepared a quick FAQ to help you understand how you will rise through the ranks, unlock new items, and customize your rider as you take on challenges around the globe.

Can you tell us more about how players progress through their Trials Rising career?

When you complete challenges in Trials Rising, you'll be rewarded with Fame. Players earn Fame by completing tracks and contracts, taking on challengers, and competing in multiplayer matches. As they level up by accumulating Fame, players unlock new bikes, new events, and new tracks. They will also be rewarded with customization items to help them personalize their rider and bikes.

What is your approach to customization in Trials Rising?

We love seeing how players express themselves in Trials, not just by riding with style, but also by designing their rider and bikes. We want to go even bigger this time around, which is why Trials Rising will have more customization options than any previous Trials game.

How will players be able to customize their bikes and rider in-game?

For starters, we'll have a huge variety of bike skins and rider gear for players to unlock as they progress through the game. We're also introducing new accessories to help you spice up your look, as well as animations and poses to help your rider strut their stuff.

To give you even more freedom to customize, Trials Rising will have thousands of Stickers that you can apply to any type of rider gear or bike skins. You can stylize to your heart's content with any Stickers you own, or you can purchase pre-made designs. And there's even more exciting customization news to come, so stay tuned in the coming months.

How will players unlock new customization items?

As players gain Fame and level up, their customization options will expand steadily. Some items will be rewarded directly to players for completing certain contracts or other in-game tasks, while others will be bundled in Gear Crates. Gear Crates contain customization items that are purely cosmetic and help players expand their inventory of customization options. Items that you receive from Gear Crates can also be purchased individually, so if there's a particular piece of flair you're after, you can seek it out specifically. In addition to earning Gear Crates for hitting Fame milestones, you can also purchase them using Trials Coins or Acorns.

What in-game currencies will be in Trials Rising, and how will players earn them and spend them?

Trials Coins are a currency that players can earn by playing Trials Rising. Completing tracks, fulfilling contracts, participating in community activities, selling unwanted customization items, and opening Gear Crates are just some of the many ways to earn Trials Coins. In addition to purchasing Gear Crates, Trials Coins can also buy you customization items. There will also be opportunities to buy some post-launch content with Trials Coins, as well as pay for entry in special events.

Acorns are another currency that players can earn by playing Trials Rising and completing special contracts or competing in online multiplayer seasons. Players can also purchase Acorns using real money. As with Trials Coins, Acorns can be used to purchase customization items and some post-launch content. There will also be some premium items that are available to buy with Acorns, like Legendary gear and premium gear crates.

We'll have more information on progression and customization in Trials Rising as the February 12, 2019 release date approaches.

— Chris Watters at Ubisoft
Source: Ubisoft News.
At NintendObserver, the comments are on Discord.
Click on Community to learn more. 🙂
…
…Wanna play? Buy a Switch.
And if you've already got yours, click on Trials Rising for everything you need to know about the game. 😀