Introducing Rocket League's new time-limited progression system.

☆ NintendObs Weekly – Monday, August 27, 2018 – Sunday, September 2, 2018.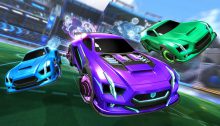 Rocket Pass Launches on September 5

Thu Aug 30

Hi everyone! Following the launch of the Progression Update, we wanted to share more information on Rocket Pass!

Rocket Pass, our new time-limited progression system, is another important part of our Summer Roadmap and it's now only days away! Starting at 10 am PDT on September 5 (1pm EDT, 7pm CEST) Rocket Pass will be live on all platforms. We'll be counting down the days in-game — so keep an eye on the in-game blog and news ticker — and you can get a full rundown on Rocket Pass and the Premium Upgrade here on the landing page. Thank you, and let us know what you think of Rocket Pass on Reddit and Twitter.

— Devin Connors at Psyonix
Source: Rocket League.
At NintendObserver, the comments are on Discord.
Click on Community to learn more. 🙂
…
…Wanna play? Buy a Switch.
And if you've already got yours, click on Rocket League for everything you need to know about the game. 😀