And more games for Nintendo Switch.

☆ NintendObs Weekly – Monday, August 6, 2018 – Sunday, August 12, 2018.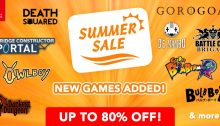 Nintendo eShop sale: Nintendo Switch Summer Sale

New titles added– save up to 80% on a huge range of games for Nintendo Switch this summer!

Version française ici : Offres estivales Nintendo Switch du Nintendo eShop. 😉

09/08/2018

You can download new games, applications and other content from Nintendo eShop on your Nintendo Switch, Nintendo 3DS family system or Wii U, and also via this website*. New titles are added regularly, and sometimes there are special discounts to discover, too!

A new selection of games for Nintendo Switch have been added to our Summer Sale promotion.

Check out some of the highlights below, and head to Nintendo eShop on your console to see the full list of games.

Until 23:59 (UK time) on 23/08/2018, the following content is on sale on Nintendo eShop:

Nintendo Switch

The Flame in the Flood: Complete Edition

Scrounge for resources, craft tools, remedy afflictions, evade the vicious wildlife and, most importantly, stay healthy in a dangerous wilderness.

Nintendo Switch

Super Bomberman R

Place bombs and battle with enemies and rivals in Super Bomberman R for Nintendo Switch!

Nintendo Switch

Battle Chef Brigade

Vive la Brigade! Follow two contestants, Mina and Thrash, as their journeys through the tournament unfold.

Nintendo Switch

Bridge Constructor Portal

The bridge is a lie!

Nintendo Switch

Crypt of the NecroDancer: Nintendo Switch Edition

Crypt of the NecroDancer is an award winning, hardcore rhythm-based dungeon crawling game.

Nintendo Switch

Darkest Dungeon®

Darkest Dungeon is a challenging, gothic roguelike turn-based RPG about the psychological stresses of adventuring.

Nintendo Switch

De Mambo

Spicy action for 1-4 players!

Nintendo Switch

Death Squared

A puzzle game about cooperation, best enjoyed with friends.

Nintendo Switch

Floor Kids

Bring your skills. Build your crew. Find your style.

Nintendo Switch

Gorogoa

Gorogoa is an elegant evolution of the puzzle genre, told through a beautifully hand-drawn story designed and illustrated by Jason Roberts.

Nintendo Switch

Mantis Burn Racing

The race is on, whenever, wherever you choose!

Nintendo Switch

MEMBRANE

Build, bend and break your world!

Nintendo Switch

Mulaka

Embark on the journey of a Tarahumara shaman!

Nintendo Switch

Outlast 2

Succumb to corruption and let the darkness take hold. A twisted new journey into the depths of the human mind and its unfathomable secrets.

Nintendo Switch

PixelJunk® Monsters 2

Play as Tikiman and build towers to protect your Tiki Hut from the fiendish monster hordes.

Nintendo Switch

Rogue Aces

Join the Rogue Aces today as Wings Mc. Pilot & Co, in this procedurally generated, adrenaline-fuelled fight to the last plane! Avoid incoming fire from land, sea and air while taking back the captured land from The Baron!

Nintendo Switch

TumbleSeed

Roll up a procedurally generated mountain avoiding holes and defeating corrupted creatures in TumbleSeed, a rolly roguelike for Nintendo Switch.

My Nintendo

Don't forget – with My Nintendo you can receive Gold Points for all purchases made in Nintendo eShop on your system or via this website.

Nintendo Account

To purchase games on the official Nintendo of Europe website, you'll need to have a Nintendo Account. If you don't have one yet, visit https://accounts.nintendo.com to sign up for free!

— Nintendo UK News
Source: Nintendo UK.
At NintendObserver, the comments are on Discord.
Click on Community to learn more. 🙂
…
…Wanna play? Buy a Switch.
And if you've already got yours, here are all the games already available on the platform. 😀