"After more than 500 million mobile downloads…" I'm gonna have to assume that includes microtransactions.

☆ NintendObs Weekly – Monday, July 16, 2018 – Sunday, July 22, 2018.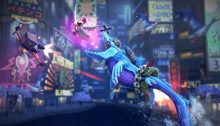 Hungry Shark World Swims Onto Consoles July 17

July 16, 2018

After more than 500 million mobile downloads, Hungry Shark World is hungering for a console release, and you'll be able to sink your teeth into this arcade adventure on the big screen when it comes to PS4, Xbox One, and Nintendo Switch on July 17.

You'll start out as a small shark and work your way up the food chain the only way you know how: by eating "every-fin" in sight. While you may only be able to devour tiny fish and crabs at first, eventually you'll become a terror that can feast on larger prey like attack helicopters and giant whales. Throughout your journey, you'll take on a variety of fearsome bosses, including gruesome goblin sharks, prehistoric predators, and even giant squids, as you explore the depths of the ocean and discover new locations, enemies, and hidden treasure.

With four unique worlds, 25 distinct sharks, and more than 250 missions, there's a lot to "sea" in Hungry Shark World. While you're not likely to "mako" lot of undersea friends on your journey to eat your way to the top, you'll soon be "bask(ing)" in the glory of becoming the mightiest predator in the ocean.

Hungry Shark World has been made specifically for consoles, with fully optimized gamepad controls. For more information about Hungry Shark World, head here.

— Youssef Maguid at Ubisoft
Source: Ubisoft News.
At NintendObserver, the comments are on Discord.
Click on Community to learn more. 🙂
…
…Wanna play? Buy a Switch.
And if you've already got yours, click on Hungry Shark World for everything you need to know about the game. 😀