Rafael Nadal avec Mario Tennis. Nintendo ne blague plus.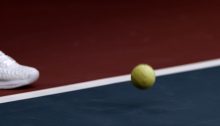 Rafael Nadal et Mario s'affrontent pour la victoire dans la nouvelle bande-annonce de Mario Tennis Aces !

Mario Tennis Aces sortira le 22 juin sur Nintendo Switch.

English version here: Watch Rafael Nadal and Mario serve, smash and slice for supremacy in the new trailer for Mario Tennis Aces! 😉

07/06/2018

Rafael Nadal s'apprête à affronter un adversaire plutôt inattendu à travers l'un des matchs les plus difficiles de sa carrière : Mario ! Découvrez ces deux stars du tennis nous livrer leur meilleur jeu dans un match sans merci où seul l'arbitre pourra trancher. Qui remportera la victoire ?

Bonus de précommande

Mario Tennis Aces est désormais disponible en précommande dans le Nintendo eShop ! En guise d'offre spéciale, les joueurs ayant précommandé le jeu depuis le Nintendo eShop recevront exceptionnellement le double de points or* dans My Nintendo ! Rappelez-vous qu'il est possible d'utiliser les points or pour effectuer des achats Nintendo Switch dématérialisés.

Mario Tennis Aces sera disponible en boutique et dans le Nintendo eShop de la Nintendo Switch dès le 22 juin.

— Nintendo France News
Source : Nintendo FR.
Chez NintendObserver, les commentaires sont sur Discord.
Cliquez sur Community pour en savoir plus. 🙂
…
…C'est pour jouer ? Achetez une Switch.
Et si vous l'avez déjà, cliquez sur Mario Tennis Aces pour tout ce que vous devez savoir sur le jeu. 😀