The Undercover Sorella Brella.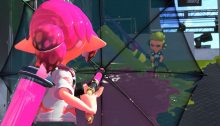 The Undercover Sorella Brella brings all the specs of the original with a snappy new design! Pin back the opposition with Splat Bombs, then close the distance and go toe to toe! You can also pop the Baller special and roll your way right into the heart of enemy turf! Sheldon recommends this set for players that want to live out their dreams of being an action-movie star!

— Squid Research Lab
Source: Splatoon's Tumblr.
At NintendObserver, the comments are on Discord.
Click on Community to learn more. 🙂
…
…Wanna play? Buy a Switch.
And if you've already got yours, click on Splatoon 2 for everything you need to know about the game. 😀