Get an in-game shirt for the Splatoon 2 World Championship.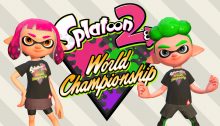 Wonderful news! Based on careful scientific observation, it appears that a gathering of champions will soon be…gathering. (Because that's what a gathering does!)

According to our research, teams from around the world will be competing at the Splatoon 2 World Championship in Los Angeles during E3. A team named SetToDestroyX is looking to defend the title for U.S./Canada. Much excitement!

Here are the deets:

Opening rounds and Semifinals: June 11 [3:30 p.m. to 6:00 p.m. PT]
Finals: June 12 [1:00 p.m. PT]

But that's not all, fellow inkthusiasts! Via an upcoming Nintendo Switch News article on the evening of 6/7, you'll be able to receive a special in-game t-shirt to commemorate the tournament! Be sure to follow the Splatoon 2 channel in Nintendo Switch News on your Nintendo Switch system for more details.

— Squid Research Lab
Source: Splatoon's Tumblr.
At NintendObserver, the comments are on Discord.
Click on Community to learn more. 🙂
…
…Wanna play? Buy a Switch.
And if you've already got yours, click on Splatoon 2 for everything you need to know about the game. 😀