Hype for the 2018 Latin American Pokémon International Championships.

☆ NintendObs Weekly – Monday, April 23, 2018 – Sunday, April 29, 2018.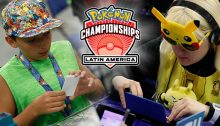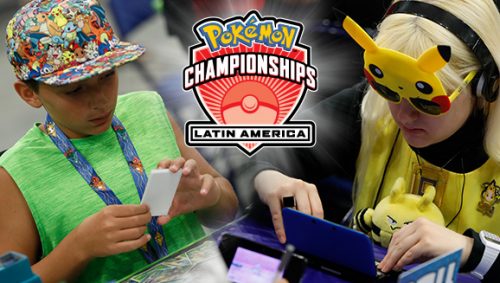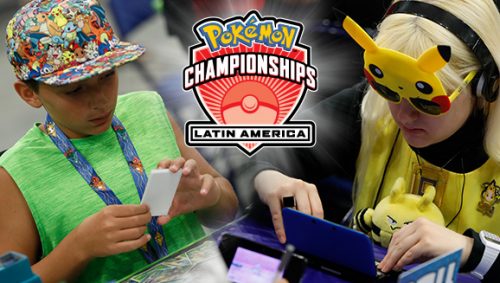 Watch Top-Notch Pokémon Battles

Top Pokémon TCG and video game players from around the world will be duking it out on Twitch.tv.

April 23, 2018

The 2018 Latin American International Championships are under way, and you'll be able to watch all the action live from both the Pokémon TCG and video game events in São Paulo, Brazil. Matches will start at 4:30 a.m. (PDT) on Friday, April 27, and at 4:45 a.m. (PDT) on Saturday and Sunday, April 28–29.

On Friday and Saturday, Pokémon Ultra Sun and Pokémon Ultra Moon Video Game Championships (VGC) matches will appear on Twitch.tv/Pokemon, while Pokémon TCG matches will occur on Twitch.tv/PokemonTCG. The final matches for each tournament will be broadcast on Twitch.tv/Pokemon on Sunday. Expert commentators will make it easy to follow each match: Jeremy Jallen, Nicholas Pearce, and AJ Schumacher will be delivering Pokémon TCG analysis, while Jay Blake, Duy Ha, and Gabby Snyder will be commentating on the video games.

The Pokémon TCG competition will be the first International Championships featuring the Sun & Moon—Ultra Prism expansion. Decks built around Glaceon-GX, Dusk Mane Necrozma-GX, and the newly released Lucario-GX have earned plenty of Championship Points since Oceania, but the most impactful new card is undoubtedly the Supporter card Cynthia.

Zoroark-GX remains the card to beat, but many other decks have held their own in the Standard Format, too. Expect to see plenty of Lycanroc-GX and Buzzwole-GX to counter Zoroark-GX, and keep an eye out for some older decks that have rejoined the top tables at recent events: Espeon-GX with Garbodor, Tapu Bulu-GX with Vikavolt, and Sylveon-GX.

The Video Game Championships have been shaken up by the discovery of Incineroar with the Intimidate Ability through a bonus for Pokémon Bank subscribers. Intimidate has quickly made the Heel Pokémon a fan favorite, landing it a spot on more teams than even the mighty Therian Forme Landorus. Many Trainers have returned to the comfort of using a combination of Fire-, Grass-, and Water-type Pokémon as the core of their teams, with Incineroar replacing traditional Fire-type selections like Charizard, Heatran, and Volcarona. Highlighting or exploiting Incineroar's newfound popularity will be crucial toward achieving victory in São Paulo.

Tune in to Twitch.tv/Pokemon and Twitch.tv/PokemonTCG starting at 4:30 a.m. (PDT) Friday and 4:45 a.m. (PDT) Saturday and Sunday to watch some exciting Pokémon Ultra Sun and Pokémon Ultra Moon and Pokémon TCG matches.

Source: Pokémon.
At NintendObserver, the comments are on Discord.
Click on Community to learn more. 🙂
 …
And if you've already got yours, click on Pokémon Ultra Sun & Ultra Moon for everything you need to know about the games. 😀