Can GG BoyZ, BackSquids and Yeah Nah take down Splatoon 2 World Inkling Invitational champions SetToDestroyX?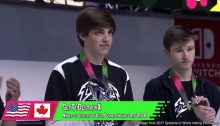 The Splatoon 2 World Championship comes to Los Angeles next month, and we're excited to present the participating teams!

From Europe, BackSquids, from Japan, GG BoyZ, from North America, SetToDestroyX, and representing Australia/NZ, Yeah Nah. Can SetToDestroyX defend the title for U.S./Canada? Or will a new challenger take the crown? Popular names from the 2017 World Inkling Invitational such as Dynamon and Latias are also returning to the fold with their new respective Japan and AU/NZ teams.

The splattle begins June 11th with the semifinals at 3:30pm PDT, and the finals take place June 12th at 1:00pm PDT. Be sure to stay tuned as the Super Smash Bros Invitational 2018 will kick off following the Championship on the 12th. Visit https://e3.nintendo.com for the full details on the event, new details on how to attend, and where you can tune in to watch the livestream!

— Squid Research Lab
Source: Splatoon's Tumblr.
At NintendObserver, the comments are on Discord.
Click on Community to learn more. 🙂
…
…Wanna play? Buy a Switch.
And if you've already got yours, click on Splatoon 2 for everything you need to know about the game. 😀