YES. YES. SO MUCH YES. #TeamMarina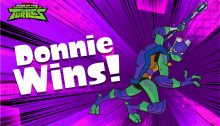 The clash of the Turtle titans is over, and Donnie is your Teenage Mutant Ninja Turtles Splatfest champion! Thanks to everyone who voted and battled for their favorite half-shelled hero! Now let's shell-ebrate with a delicious slice of anchovy pizza!

— Squid Research Lab
Source: Splatoon's Tumblr.
At NintendObserver, the comments are on Discord.
Click on Community to learn more. 🙂
…
…Wanna play? Buy a Switch.
And if you've already got yours, click on Splatoon 2 for everything you need to know about the game. 😀