"A young Octarian Octoling." I suppose that's what makes them different from the Octolings we get to fight against.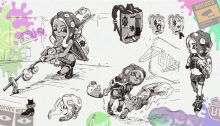 The protagonist of Splatoon 2: Octo Expansion is a young Octarian Octoling. Octarians seem to have a more serious nature than the carefree Inklings we're accustomed to. We've also heard that they're naturally good with their hands and adept at using tools and machinery.

— Squid Research Lab
Source: Splatoon's Tumblr.
At NintendObserver, the comments are on Discord.
Click on Community to learn more. 🙂
…
…Wanna play? Buy a Switch.
And if you've already got yours, click on Splatoon 2 for everything you need to know about the game. 😀