And that's how I got Super Mario Odyssey.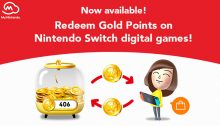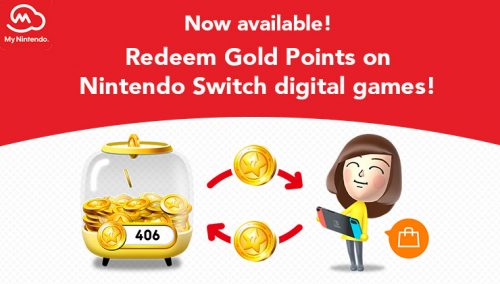 03.06.18

My Nintendo members can now redeem Gold Points for digital games and DLC for the Nintendo Switch™ system. It's as easy as applying your points during the checkout process, whether you buy on the Nintendo website or Nintendo eShop on the system.

Ready to earn and redeem your Gold Points? Here's how:

Buy a qualifying digital game for Nintendo Switch, Wii U™, or Nintendo 3DS™ family systems, or a physical game for the Nintendo Switch system.

Earn Gold Points based on the amount you pay (excluding any points or discounts used).




* 5% for eligible digital purchases on Nintendo.com or Nintendo eShop (Nintendo Switch, Nintendo 3DS, Wii U)




* 1% of the Nintendo eShop price for physical purchases (Nintendo Switch)

Redeem those points on your next eligible digital purchase (including games and DLC) for the Nintendo Switch system. Just look for the option to apply your points during checkout.

That means that if you buy a $59.99 game on Nintendo eShop, you'll earn 300 Gold Points. Those points can then be redeemed for $3 toward your next purchase…which will earn more Gold Points, according to the amount you paid (excluding any points or discounts used)!

For more details, check out the new page about Gold Points.

Not yet a member of My Nintendo? Sign up for free today with your Nintendo Account.

Details:

Purchases of Nintendo 3DS or Wii U DLC do not qualify to earn Gold Points. Additionally, service items/tickets, in-game items or virtual currency do not qualify to earn Gold Points.

Gold Points can be used toward all eligible digital game and DLC purchases for the Nintendo Switch system, excluding automatic subscription renewals, service tickets and in-game items.

— Nintendo What's New
Source: Nintendo.
At NintendObserver, the comments are on Discord.
Click on Community to learn more. 🙂
…
…Wanna play? Buy a Switch.
And if you've already got yours, here are all the games already available on the platform. 😀