With RC Car creations from Nintendo UK's Nintendo Labo event.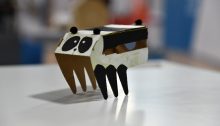 Discover what attendees got up to at our Nintendo Labo Workshop

Lots of people were making, creating and discovering with Nintendo Labo at our Workshop. 

27/02/2018

We recently invited a selection of kids, parents, media and influencers to our Nintendo Labo Workshop in London, where they were able to check out Nintendo Labo first hand!

Attendees were able to make, play and discover with the Nintendo Labo Toy-Con 01: Variety Kit and could also play around with the Nintendo Labo Toy-Con 02: Robot Kit and discover how it works.

At the end of the Workshop, people entered their RC Car creations into our Design Competition. You can see some of our favourites below.

An independent judge has selected their ten favourites, which are now live on our Nintendo Switch Facebook page. You can help pick a winner by simply voting for your favourite with a Like (or any other Reaction). The entry with the most Likes will win a Nintendo Switch and Nintendo Labo Variety Kit. Make your vote count here.

You can see more of what the attendees got up to here!

Nintendo Labo Toy-Con 01: Variety Kit and Nintendo Labo Toy-Con 02: Robot Kit arrives in stores on April 27th. Join the Nintendo Labo video community on YouTube to be the first to see new videos and find out more about this new experience on Nintendo Switch!

— Nintendo UK News
Source: Nintendo UK.
At NintendObserver, the comments are on Discord.
Click on Community to learn more. 🙂
…
…Wanna play? Buy a Switch.
And if you've already got yours, click on Nintendo Labo for everything you need to know about the game. 😀