The outcome of Rayquaza's Legendary victory.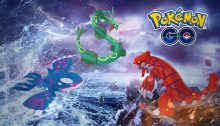 Windy Weather Blows in a Special Egg Event

March 5, 2018

Trainers,

The dust has settled on our legendary week of Raid Battles, and the ancient Legendary Pokémon Rayquaza has proven victorious! So from March 5 to March 16, Pokémon that prefer windy weather will hatch more often from Eggs.

But that's not the only place you'll see weather-enhanced Pokémon. Raid Battles at Gyms near you will also favor appearances by Pokémon that prefer windy weather. Plus, enjoy double XP until March 16—a special thanks for all of your enthusiasm and hard work!

In need of Premium Raid Passes? Don't forget that special boxes containing them will be available in the shop until March 11.

Although Kyogre and Groudon have left for now, you can continue to challenge Rayquaza in Raid Battles until March 16! Get the most out of hatching, catching, and battling during this limited time.

Stay safe, and happy exploring!

The Pokémon GO team

Source: Niantic.
At NintendObserver, the comments are on Discord.
Click on Community to learn more. 🙂
…
…Wanna play? Buy a 3DS.
That being said, click on Pokémon Go for everything you need to know about the game. 😀