That Pokémon Go money is taking Niantic to the next level.

☆ NintendObs Weekly – Monday, January 29, 2018 – Sunday, February 4, 2018.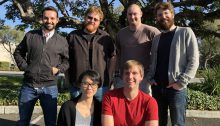 Planet Scale AR: Welcoming Escher Reality to Niantic

February 1, 2018

Today we are announcing the acquisition of Escher Reality, and welcoming the talented team led by Escher's co-founders Ross Finman and Diana Hu to Niantic.

Escher's innovations focus on exploring the intersection of digital and physical worlds, augmented reality (AR), and computer vision. Escher's technology helps to build persistent, cross platform, multi-user experiences.

The addition of the Escher AR technology is incredibly exciting to us at Niantic as it significantly accelerates our work on persistent, shared AR as part of the Niantic real-world application platform. It's our intention to make our cross-platform AR technology available more widely to developers later this year. Stay tuned for information on developer availability.

At Niantic, we are committed to using technology to enhance our users' interactions with the physical world, and we are excited to embrace the Escher team as we continue to evolve and grow our platform to support planet-scale AR.

—jh

Source: Niantic Labs.
At NintendObserver, the comments are on Discord.
Click on Community to learn more. 🙂
…
…Wanna play? Buy a 3DS.
That being said, click on Pokémon Go for everything you need to know about the game. 😀