There are events announced in-game all the time but they don't really seem to mention them on Nintendo's Twitter accounts as much as they do for Fire Emblem Heroes.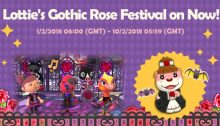 Directly to you from Twitter:
At NintendObserver, the comments are on Discord.
Click on Community to learn more. 🙂
…
…Wanna play? Buy a 3DS.
That being said, click on Animal Crossing Pocket Camp for everything you need to know about the game. 😀