The Sloshing Machine Neo.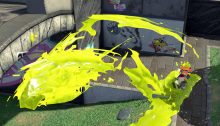 According to our research, the Sloshing Machine Neo will be available this evening, just prior to Splatfest kickoff. Just like the Sloshing Machine, this weapon can be effective on enemies hiding in the terrain…and just like the Sloshing Machine, you shouldn't try to wash your clothes in it (this was hard research, indeed). Rounding out the kit is the Point Sensor to reveal the location of opponents to your team, and the Splat-Bomb Launcher to wreak a little havoc.

— Squid Research Lab
Source: Splatoon's Tumblr.
At NintendObserver, the comments are on Discord.
Click on Community to learn more. 🙂
…
…Wanna play? Buy a Switch.
And if you've already got yours, click on Splatoon 2 for everything you need to know about the game. 😀