Action vs. Comedy Splatfest worldwide on January 12-13. The results will be tallied across all regions.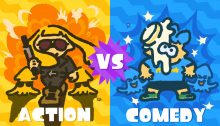 The first Splatfest of 2018 is almost here! The question being decided is for movie lovers and aficionados: do you prefer comedies or action movies? That's right, it's side-splitters vs. explosions. Jokes vs. adrenaline. Slapstick vs. fight scenes! (And no, you can't choose "action-comedy." Dems the rules!)

The Splatfest will take place from 1/12 (Fri) 8:00 p.m. PT – 1/13 (Sat) 8:00 p.m. PT.

Oh, and just as a SSA (Squid Service Announcement): since the theme of this Splatfest is going to be shared globally, the results will be coming in late Sunday morning. So feel free to sleep in a little – Judd won't mind!

— Squid Research Lab
Source: Splatoon's Tumblr.
At NintendObserver, the comments are on Discord.
Click on Community to learn more. 🙂
…
…Wanna play? Buy a Switch.
And if you've already got yours, click on Splatoon 2 for everything you need to know about the game. 😀