The Octobrush Nouveau.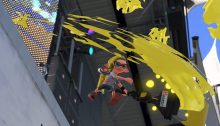 Happy Nouveau Year! In honor of a brand-new calendar year, reports are in that the Octobrush Nouveau will become available later this evening! This bristling beauty matches the stats of the Octobrush but has a kit that encourages a supportive playstyle.

It comes with Squid Beakons to help expand your teammates' options, and Tenta Missiles to lay down some covering fire. After all, the best way to start off the new year is with a bang!

— Squid Research Lab
Source: Splatoon's Tumblr.
At NintendObserver, the comments are on Discord.
Click on Community to learn more. 🙂
…
…Wanna play? Buy a Switch.
And if you've already got yours, click on Splatoon 2 for everything you need to know about the game. 😀