Je ne comprenais rien au système de combat à la base, mais dès qu'on maîtrise les combos et qu'on a accès aux enchaînements, toute cette folie prend tout son sens.

☆ Événement NintendObs – Xenoblade Chronicles 2 Direct 07.11.2017.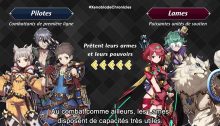 At NintendObserver, the comments are on Discord.
Click on Community to learn more. 🙂
…
…Wanna play? Buy a Switch.
And if you've already got yours, click on Xenoblade Chronicles 2 for everything you need to know about the game. 😀