The MSRP is 10 dollars more than the same version on other platforms though.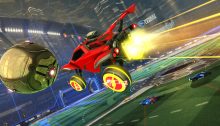 ROCKET LEAGUE SWITCH RETAIL VERSION COMING IN JANUARY

Wed Dec 13

The most frequent question we've received from Nintendo Switch fans since our digital release this past November has been, "When can we expect a physical version of Rocket League to come to store shelves?"

We are pleased to say that the answer to that question is…

January 16 for North America

January 24 for Australia and New Zealand

January 25 for Central Europe

January 26 for remaining Europe, Israel, Middle East, Russia, and South Africa (players in Europe should contact their local retailer for availability details)

This new, physical Switch version will also be distributed by our new partner, Warner Bros. Interactive Entertainment. Check out the box art down below!

Dubbed Rocket League Collector's Edition, the retail version of Rocket League on Switch will mirror those available for PlayStation 4 and Xbox One with an MSRP of $39.99. What's in it? This!

Revenge of the Battle-Cars DLC Pack

Customization Items inspired by DC Comics' The Flash

Limited Art Print by Psyonix Concept Artist, Jay Zhang

As many of you have likely noticed, the MSRP for Rocket League Collector's Edition is $10 more on Nintendo Switch than the same version on other platforms. As much as we tried to keep the retail price down, the reality of the Switch's increased cartridge manufacturing costs meant that the MSRP had to be higher as well. That said, we are still VERY confident that players who join us from the retail side will get plenty of enjoyment from what Rocket League has to offer and we look forward to welcoming them to the community next month!

— Jeremy Dunham at Psyonix
Source: Rocket League.
At NintendObserver, the comments are on Discord.
Click on Community to learn more. 🙂
…
…Wanna play? Buy a Switch.
And if you've already got yours, click on Rocket League for everything you need to know about the game. 😀