Pokémon's plans for Halloween 2017.

☆ NintendObs Weekly – Monday, October 2, 2017 – Sunday, October 8, 2017.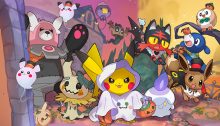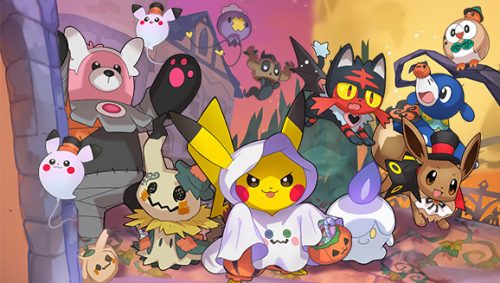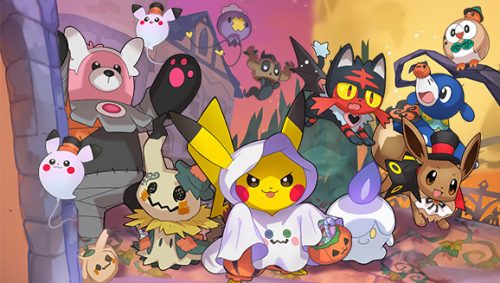 Beware Pokémon's Spooky Halloween Roundup!

We've collected all the Pokémon tricks and treats into one place to help you celebrate Halloween.

October 02, 2017

October is here, and that means one thing: it's time to start gearing up for Halloween! To help celebrate this spooky season, we've gathered together all the frightful fun that we've been working hard to bring you. Where will you go first? Make your choice, and prepare for a hauntingly good time!

Ghostly Goodies in Pokémon GO

Pokémon GO is making this Halloween extra-special with the debut of select Pokémon from the Hoenn region! Look for new Pokémon to add to your Pokédex as you're out trick-or-treating. Plus, stay on the lookout for Halloween Pikachu, as well as an increase in Ghost-type Pokémon encounters and double Candy rewards!

Learn more about Pokémon GO's Halloween celebration!

Thrills and Chills on Pokémon TV

What better way to enjoy all your Halloween candy than by plopping down on a comfy seat and watching a few episodes of Pokémon the Series? To celebrate the season, we've compiled two special episode collections: one that journeys into haunted houses to deliver plenty of scares, and another that digs into all of the Pokémon's favorite treats.

Enjoy Ash and Pikachu's animated adventures on Pokémon TV!

Petrifying Pokémon Pumpkins

Carving pumpkins is a popular Halloween tradition, so why not make your gourds a little more exciting with the addition of Pokémon? These awesome stencils will help guide you to having the coolest jack-o'-lanterns on the block. Just download the images, grab an adult to help you, and get carving! Look for new stencils this year featuring Mimikyu, Alolan Meowth, Rowlet, Litten, Popplio, and more!

See our wide range of pumpkin stencils!

Get the Mysterious Marshadow!

The Mythical Pokémon Marshadow has come to Pokémon Sun and Pokémon Moon. If you want to catch this rare Pokémon for your Pokédex, you'll need to take advantage of this special distribution. Don't miss out on your chance to add Marshadow to your party of Pokémon!

Find out how to get Marshadow in Pokémon Sun and Pokémon Moon!

Share Your Pokémon Halloween Spirit

Do you have an excellent Pokémon pumpkin that you're especially proud of? How about a great Pokémon Halloween costume? Tag your pictures on Twitter, Instagram, Facebook, and YouTube with #PokemonHalloween to share them with the world!

See all the Pokémon Halloween spirit!

Minigame Madness

Test your skills with a pair of our most Halloween-y minigames! Whether you're playing the brand-new Spooky Spotlight or the classic Escape from Gengar's Mansion, only the best players will be able to earn a high score. Be sure to log in to the Pokémon Trainer Club to save your high scores and compete with your friends.

Begin playing some scary minigames!

Seasonal Pokémon Center

You're not the only one who loves celebrating Halloween. Based on the latest goodies to arrive at the Pokémon Center, Pokémon enjoy getting in on the festivities as well! Check out new plush and more featuring various Pokémon dressed up in their creepiest costumes!

Have a happy Pokémon Halloween!

— Pokémon News
Source: Pokémon.
At NintendObserver, the comments are on Discord.
Click on Community to learn more. 🙂
…
…Wanna play? Buy a 3DS.
And if you've already got yours, click on Pokémon for everything you need to know about the franchise. 😀