Launching on the same day as the New Nintendo 3DS XL Super Nintendo Entertainment System Edition.

☆ NintendObs Weekly – Monday, October 9, 2017 – Sunday, October 15, 2017.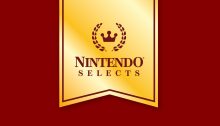 Three new Nintendo 3DS titles join the Nintendo Selects range!

New Nintendo 3DS XL – Super Nintendo Entertainment System Edition also available today!

Version française ici : Trois nouveaux titres Nintendo 3DS rejoignent la collection Nintendo Selects ! 😉

13/10/2017

For those who wish to discover a game they may have missed the first time around, or simply wish to rediscover it, the Nintendo Selects range and its wide variety of gaming experiences is the ideal place to start. From today, three classic titles for Nintendo 3DS family systems will be available to download from Nintendo eShop for £15.99 / €19.99 each!

Check out these new additions to the Nintendo Selects range below:

Nintendo 3DS

SUPER MARIO 3D LAND

Nintendo UK's official site for SUPER MARIO 3D LAND on Nintendo 3DS, a 3D Mario game that plays like a 2D Mario game! 

Nintendo 3DS

Luigi's Mansion 2

Mario's scaredy-cat brother is back in Luigi's Mansion 2 on Nintendo 3DS, an exciting adventure filled with action, puzzles and g-g-ghosts! 

Nintendo 3DS

Kirby: Triple Deluxe

Jump in and out of the background and face foes from all directions in Kirby: Triple Deluxe, only on Nintendo 3DS family systems! 

Today also sees the launch of the New Nintendo 3DS XL – Super Nintendo Entertainment System Edition. This retro-themed system's outer shell pays tribute to the classic design of the Super Nintendo, while inside the Nintendo 3DS buttons are coloured just like the original system's controllers.

The Nintendo Selects range is bursting with a whole host of unique and varied gameplay experiences, including fan-favourite titles for Wii U, Nintendo 3DS family systems and Wii. To see the full range, visit our official Nintendo Selects page.

— Nintendo UK News
Source: Nintendo UK.
At NintendObserver, the comments are on Discord.
Click on Community to learn more. 🙂
…
…Wanna play? Buy a 3DS.
And if you've already got yours, here are all the games already available on the platform. 😀