The tank class in Miitopia… is literally a tank.

☆ NintendObs Weekly – Monday, July 24, 2017 – Sunday, July 30, 2017.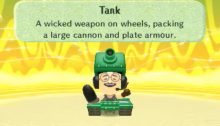 Which Miitopia job is right for you?

Get some incredibly important career advice in our feature news!

Version française ici : Quelle classe est faite pour vous dans Miitopia ? 😉

25/07/2017

Miitopia is coming exclusively to Nintendo 3DS family systems – including the latest addition to the family, New Nintendo 2DS XL – on July 28th. In this wacky adventure, your favourite Mii characters can embark on a hilariously quirky quest to defeat a devious Dark Lord!

Along the way, they'll square off against hundreds of weird, wonderful and wacky monsters, including Space Goblins, Evil Moles and…Ham Sandwiches?!

To give your heroes a fighting chance, you can choose specific jobs for them, which will affect how they behave in battles. There are more than a dozen different roles to choose from, so let's take a look to see what's what.

Warrior

You can't go far wrong with a Warrior! This versatile all-rounder uses a trusty sword to deal out the damage, and is well-versed in the art of defence, too.

Mage

If flashy attacks are more your thing, then the Mage might be just the ticket. Conjure up the might of fire and lightning magic to blast foes away!

Cleric

More of a team player? The Cleric can offer your squad support in the form of healing spells, ideal for when you're taking a bit of a beating in battle.

Thief

Rob your enemies blind and use their items against them! As well as excelling as a sneaky pickpocket, the Thief can also set deadly traps for unsuspecting baddies.

Pop Star

If your team could use a pep talk, look no further than the resident Pop Star! As well as rocking the mic for damage, these divas can boost your group's morale with their all-singing, all-dancing antics.

Chef

When your heroes are in need of culinary cures, the Chef puts good old-fashioned home cooking back on the menu. Oh, and they can wallop things with a frying pan. Win-win.

Cat

Your teammates might love its playful antics, but with its sharp shredding claws, the Cat is one feisty feline fighter. Meeeee-ow!

Imp

The Imp fights with spears and pitchforks, and possesses the power of dark magic. This devilish creature can drain an enemy's life force and turn it into HP for your own party members.

Scientist

Add the Scientist to your ranks for a winning formula! This brainbox uses the power of science to get the upper hand on pesky foes.

Tank

Ka-blammo! A heavy duty weapon of war, the Tank doles out some serious firepower. Coupled with a super-sturdy defence, this unit stops enemies dead in their tracks.

Princess

The Princess is a majestic monarch with the gift of the gab. Charming sweet talk, proficiency at royal magic, and a great big hand fan make a Princess more than a match for those mean monsters.

Flower

Boost the mood in the camp with this wonder of nature. Put on a display of beautiful flowery flamboyance to raise everyone's spirits, or just throw leaves at people. Your choice.

Your friends, your adventure! Miitopia comes to Nintendo 3DS family systems on July 28th. In the meantime, find out how you can try the Miitopia: Demo Version and Miitopia: Casting Call for free* at the official Miitopia website!

— Nintendo UK News
Source: Nintendo UK.
At NintendObserver, the comments are on Discord.
Click on Community to learn more. 🙂
 …
…Wanna play? Buy a 3DS.
And if you've already got yours, click on Miitopia for everything you need to know about the game. 😀