The Range Blaster.

☆ NintendObs Weekly – Monday, October 16, 2017 – Sunday, October 22, 2017.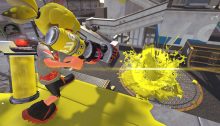 According to our reports, it may be time to arrange a range change (which may be a little strange). The Range Blaster will be available later tonight! True to its name, the ink from this blaster has an extended range before it explodes. Just note that the trade-off is a slower rate of fire (there's always a catch!). Rounding out the kit are Suction Bombs and the Ink Storm special.

— Squid Research Lab
Source: Splatoon's Tumblr.
At NintendObserver, the comments are on Discord.
Click on Community to learn more. 🙂
…
…Wanna play? Buy a Switch.
And if you've already got yours, click on Splatoon 2 for everything you need to know about the game. 😀