The Hydra Splatling.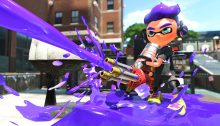 It's finally back! This Black Friday (today!), Sheldon has a special weapon in store for Inklings with an appetite for heavy firepower. The Hydra Splatling. This puppy emits high-pressure ink like a fire extinguisher and has the longest range among Splatling-type weapons. Although it takes time to charge, the firepower will increase by charging it to the max. It comes with the Autobomb sub and Splashdown special. You can pick it up starting at 6 PM PT tonight, the same time that MakoMart opens its doors!

— Squid Research Lab
Source: Splatoon's Tumblr.
At NintendObserver, the comments are on Discord.
Click on Community to learn more. 🙂
…
…Wanna play? Buy a Switch.
And if you've already got yours, click on Splatoon 2 for everything you need to know about the game. 😀