The Glooga Dualies.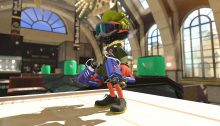 It's time for a little double trouble! The Glooga Dualies are not just a fun name to say – they're formidable weapons, whose power increases immediately following a dodge-roll. Rounding out the kit is the Ink Mine sub weapon, which helps allies keep track of foes, and the Inkjet special. The Glooga Dualies will be available starting tonight!

— Squid Research Lab
Source: Splatoon's Tumblr.
At NintendObserver, the comments are on Discord.
Click on Community to learn more. 🙂
…
…Wanna play? Buy a Switch.
And if you've already got yours, click on Splatoon 2 for everything you need to know about the game. 😀