Miitopia Casting Call demo, Hey! Pikmin demo.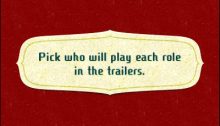 Click here for Europe.
NINTENDO DOWNLOAD HIGHLIGHTS NEW DIGITAL CONTENT FOR NINTENDO SYSTEMS – JUL. 13, 2017

This week's Nintendo Download includes the following featured content:

Nintendo eShop on Nintendo 3DS

Miitopia: Casting Call Demo – Get ready to be the star of the show! In this free demo available now, pick some pre-made Mii characters or create your own. Assign each character a role and then cast them in one of three different in-game video trailers for upcoming RPG Miitopia game. With humor, intrigue and adventure, the video trailers will keep you wanting more until the game launches on July 28.

Hey! PIKMIN – Demo Version – The first Pikmin game for Nintendo 3DS is launching on July 28! Try out this new type of Pikmin game before the game launches by downloading this free demo, available now. Use the touch screen to throw Pikmin into action, solve environmental puzzles and survive hostile wildlife. Game in 2D.

Nintendo eShop sales

Nintendo eShop on Wii U and Nintendo 3DS

Great deals this week! Check out the full list of deals on Nintendo 3DS and Wii U available this week at: http://www.nintendo.com/games/sales-and-deals.

Activities

My Nintendo Rewards: Sink Your Teeth Into Castlevania Discount Rewards! – Brace yourselves for horrifying news, vampire hunters: My Nintendo is scaring up fantastic rewards to help you get your hands on the first three Castlevania series NES games. Redeem your My Nintendo points to get 40 percent discounts on each these classic games, available for digital download via the Virtual Console service on both the Wii U console and the Nintendo 3DS family of systems:

Castlevania – Step into the shadows of the deadliest dwelling on earth. You've arrived at Castlevania, and you're here on business. Take arms as Simon Belmont in this first chapter of the original Castlevania series. Battle your way to Dracula's chamber and to the ultimate duel of good versus evil.

Castlevania II: Simon's Quest – Guide Simon Belmont in his quest to discover Count Dracula's five missing body parts. Upon finding these gruesome items, proceed to Dracula's Castle. Confront the villain and end the curse cast upon the Belmont family once and for all.

Castlevania III: Dracula's Curse – In the third chapter of the Castlevania series that released on the original NES console, Trevor Belmont must take arms against the young but immortal Dracula. Use powers to transform into three different spirits, as well as an assortment of weapons to confront an army of horrors.

My Nintendo Rewards: ARMS Wallpapers – To celebrate the first DLC release for the ARMS game, My Nintendo is offering three new ARMS wallpapers to download.

Wallpaper – ARMS – Spring Man

Wallpaper – ARMS – Min Min

Wallpaper – ARMS (black)

Theme Shop on Nintendo 3DS

New themes this week include

Hey! PIKMIN: Adventure Together

Also new this week

ACA NEOGEO FATAL FURY SPECIAL (Nintendo eShop on Nintendo Switch)

I and Me (Nintendo eShop on Nintendo Switch)

De Mambo (Nintendo eShop on Nintendo Switch)

Death Squared (Nintendo eShop on Nintendo Switch)

Levels+ : Addictive Puzzle Game (Nintendo eShop on Nintendo Switch)

Asdivine Cross (Nintendo eShop on Nintendo 3DS)

Cursed Castilla (Nintendo eShop on Nintendo 3DS)

Bit Dungeon Plus (Nintendo eShop on Nintendo 3DS)

BOX UP (Nintendo eShop on Wii U)

Source: Business Wire.
Click here for last week's North American eShop Downloads. 
At NintendObserver, the comments are on Discord.
Click on Community to learn more. 🙂
…
…Wanna play? Buy a Switch.
And if you've already got yours, here are all the games already available on the platform. 😀