They're so cute… 🙂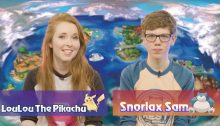 Introducing the Pokémon Sun & Pokémon Moon Trainer Guide

Pokémon VGC competitors Snorlax Sam and Loulou the Pikachu are here to take you from newcomer to Ace Trainer!

07/07/2017

With the summer holidays upon us we're sure many of you will be grabbing your Nintendo 3DS Family System and looking to spend some quality time in the sun drenched climes of Pokémon Sun and Pokémon Moon's Alola Region, and for some of you it might be your first adventure in the world of Pokémon…

So for those of you that are new to Pokémon, and for the many that want to take their understanding of the games that little bit further, we've teamed up with a pair of Pokémon pros, who actually travel around the world to compete in the game, to create a series of videos on a wide variety of Pokémon topics.

Over the next eight weeks Snorlax Sam and Loulou the Pikachu will tell you everything you need to know about Pokémon Sun and Pokémon Moon. From the basics of the world of Pokémon, through conquering the Alola Region, and all the way up to battling and beating your friends, this video series will make sure you get the most out of your Pokémon adventure.

Oh, and there will be a new competition every week, so make sure you watch every episode to learn about the goodies you could be in with a chance of winning!

New episodes will air every Friday afternoon on the Nintendo UK YouTube channel, so make sure to subscribe to watch every episode as soon as they're uploaded. For those that want to know more about competitive Pokémon, please visit the Play Pokémon website.

Happy adventures!

Episode 1 – The world of Pokémon

— Nintendo UK News
Source: Nintendo UK.
At NintendObserver, the comments are on Discord.
Click on Community to learn more. 🙂
…
And if you've already got yours, click on Pokémon Sun & Moon for everything you need to know about the games. 😀