The return of the Super Sea Snails.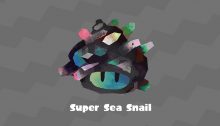 At the end of each Splatfest, participants will earn Super Sea Snails based on their individual and team contribution. If you give snails to Murch in Inkopolis Square, he can add additional slots to your gear, or scrub your gear to remove its secondary abilities.

Please note that Super Sea Snails will not be distributed for the Splatfest World Premiere event taking place this weekend. Save data from the demo will not carry over into the full game.

— Squid Research Lab
Source: Splatoon's Tumblr.
At NintendObserver, the comments are on Discord.
Click on Community to learn more. 🙂
…
…Wanna play? Buy a Switch.
And if you've already got yours, click on Splatoon 2 for everything you need to know about the game. 😀