J'espère qu'ils seront disponibles sur place à la Japan Expo.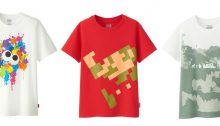 Les t-shirts de la gamme Nintendo x UNIQLO sont désormais en vente !

Les designs gagnants basés sur Super Mario, Splatoon ou The Legend of Zelda sont disponibles en ligne et dans les boutiques UNIQLO. 

English version here: Nintendo x UNIQLO t-shirt designs now available to purchase! 😉

19/05/2017

Les designs gagnants du concours de t-shirt UNIQLO, UT GRAND PRIX 2017, sont désormais disponibles à l'achat en ligne et dans les boutiques UNIQLO à travers toute l'Europe !

L'année dernière, Nintendo et UNIQLO ont demandé aux fans d'envoyer leur designs de t-shirt personnalisés dans le cadre du UTGP2017, la compétition mondiale de design de t-shirt. Un jury de Nintendo composé entre autre de Shigeru Miyamoto, a passé en revue le nombre record de 16 000 créations, pour finalement sélectionner 31 incroyables t-shirts.

Ces designs magnifiques sont désormais accessibles à tous ! Que vous soyez à la recherche des derniers articles Splatoon à la mode ou des designs Super Mario indémodables, il y en a pour tous les goûts !

Ces 31 t-shirts peuvent désormais être commandés en ligne sur le site d'UNIQLO ou en boutique. Pour trouver une boutique UNIQLO à proximité, consultez la fonction de recherche du site web officiel d'UNIQLO.

Utilisez les liens ci-dessous pour naviguer dans les catégories :

Remarque : UNIQLO livre dans les pays suivants : Autriche, Belgique, Danemark, Finlande, France, Allemagne, Grèce, Irlande, Italie, Luxembourg, Pays-Bas, Pologne, Portugal, Serbie, Slovaquie, Slovénie, Espagne, Suède et Royaume-Uni.

— Nintendo France News
Source : Nintendo FR.
Chez NintendObserver, les commentaires sont sur Discord.
Cliquez sur Community pour en savoir plus. 🙂
…
…C'est pour jouer ? Achetez une Switch.
Et si vous l'avez déjà, ici se trouvent tous les jeux déjà disponibles sur la console. 😀