The Octarians are back and it's up to the New Squidbeak Splatoon to save the day.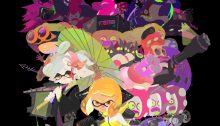 BREAKING NEWS! We just received details on the single-player mode in Splatoon 2. Is that…Marie? But where's Callie?! It seems the Octarians, the octopi troops, have steadily grown their species, and it's up to a fresh rookie of the New Squidbeak Splatoon to splat their plans.

It's been a busy day here in the lab, but our field researcher who has been sharing findings in the Squid Sisters Stories also just sent us a final report. Please find the details here.

— Squid Research Lab
Source: Splatoon's Tumblr.
At NintendObserver, the comments are on Discord.
Click on Community to learn more. 🙂
…
…Wanna play? Buy a Switch.
And if you've already got yours, click on Splatoon 2 for everything you need to know about the game. 😀