And don't forget FIFA, unless EA does forget for unprecedented reasons.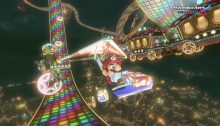 There are plenty of games to play with friends and family on Nintendo Switch!

Settle the score in dance-offs, battles and races galore!

Version française ici : Partagez de nombreux jeux avec famille et amis sur la Nintendo Switch ! 😉

21/03/2017

Picked up a Nintendo Switch? Then you've probably noticed the two Joy-Con that come with it. These two delightful Joy-Con allow you to instantly share the joy with another player anytime, anywhere. Just pass one to a friend or family member and you're set for some great two-player fun.

We've already taken a look at the many single player experiences out now and coming later this year, so let's take a quick look at just some of the games you can play with others either cooperatively or competitively.

Out now!

1-2-Switch invites you to lock eyes with your opponent and face off in a series of wacky games, including magic battles, cow milking contests and catwalk-style strut-offs. Simply pass a Joy-Con over to your opponent and let the fun begin!

Meanwhile, Snipperclips – Cut it out, together! is all about partnering up with another player to solve bunches of papery puzzles, from filling in shapes to shooting hoops*! You can even give it a try with the free** demo on Nintendo eShop.

Fancy dancing off with friends and family instead? Just Dance 2017 has you covered and enables you to dance the night away anytime, anywhere, with 40 new tracks and six game modes. Alternatively, Super Bomberman R allows you to play co-operatively with a friend in more than 50 levels in Story Mode, or battle it out with up to eight players* in Battle Mode!

FAST RMX is also perfect for settling scores*, while Shovel Knight: Treasure Trove allows you to play with a friend co-operatively in Shovel Knight's campaign!

Even more multiplayer games on the way

On April 28th, take to the track in the biggest Mario Kart game ever: Mario Kart 8 Deluxe! With over 40 racers to choose from, 48 courses to conquer and an expanded battle mode, our excitement levels from this one couldn't have gone from 0 to 60 any faster! Also out on April 28th, you'll be able to enjoy plenty of puzzling action with pals in Puyo Puyo Tetris. Before that, on April 7th LEGO® CITY Undercover arrives, bringing a new two-player co-op mode, allowing friends and family to fight crime together!

https://www.youtube.com/watch?v=8B8bZfqQIkE&rel=0&showinfo=0

Boxing more your bag? ARMS has got you covered this spring. Jump into all sorts of arenas and do battle with a variety of finely-tuned fighters in this unique multiplayer fighting sport, each with their own skills and ways to deal out the damage. If you're in search of a classic fighting experience, ULTRA STREET FIGHTER II: The Final Challengers lands on May 26th, too!

Or perhaps you'd prefer to compete in a shooter setting instead? Prepare to paint the battlefield red, green and everything in between in Splatoon 2, coming this summer. Splash ink wherever you go to claim turf and score the victory for your team. You can give it a go ahead of launch in the Splatoon 2 Global Testfire**, too!

On top of all this, don't forget that FIFA, NBA 2K18, Rayman Legends: Definitive Edition and more are coming to Nintendo Switch later this year!

— Nintendo UK News
Source: Nintendo UK.
At NintendObserver, the comments are on Discord.
Click on Community to learn more. 🙂
…
…Wanna play? Buy a Switch.
And if you've already got yours, here are all the games already available on the platform. 😀