April 14-17. Use the promo code 'INSOMNIANINTENDO' to get 10% off day tickets. 
☆ NintendObs Weekly – Monday, March 6, 2017 – Sunday, March 12, 2017.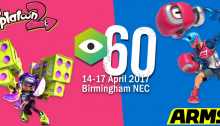 Play ARMS and Splatoon 2 at Insomnia60!

Join Nintendo at Insomnia60 Gaming Festival for unique daily schedules, including special The Legend of Zelda activities on 16th April!

08/03/2017

ARMS, Splatoon 2, Mario Kart 8 Deluxe and The Legend of Zelda: Breath of the Wild will all be playable at Insomnia60, the UK's biggest gaming festival, taking place 14th–17th April 2017 at The NEC Birmingham.

These titles will be available to demo every day of the show and will be complimented by a variety of gameplay demonstrations and spot-tournaments on the Nintendo stage for games such as Ultra Street Fighter 2: The Final Challengers, Snipperclips, 1-2-Switch, Super Bomberman R and more! Every day will offer a unique schedule, so please check back closer to the time of the event to find out exactly what's happening when.

Today Nintendo is pleased to announce that Sunday 16th April will play host to a range of unique The Legend of Zelda themed activities to coincide with the performance of The Legend of Zelda: Symphony of the Goddesses taking place at The NEC Birmingham that same evening!

These activities will include a quiz, stage competitions on mini-games found in The Legend of Zelda: Breath of the Wild and a The Legend of Zelda Cosplay Masquerade that will take place on the Insomnia Expo stage. Prize and entry details will be revealed very soon, so please stay tuned to nintendo.co.uk and Nintendo UK social channels.

Insomnia60 will be held on 14th–17th April 2017 at The NEC Birmingham.

If you would like to join us then you can buy tickets for Insomnia60 at https://insomniagamingfestival.com/. What's more, if you use the promo code 'INSOMNIANINTENDO' then you can get 10% off day tickets! Please be aware that The Symphony of the Goddesses performance is ticketed separately to the main Insomnia festival, and you can check full tour dates and purchase tickets at http://zelda-symphony.com/.

We hope to see you there!

— Nintendo UK News
Source: Nintendo UK.
At NintendObserver, the comments are on Discord.
Click on Community to learn more. 🙂
…
…Wanna play? Buy a Switch.
And if you've already got yours, here are all the games already available on the platform. 😀