Poochy & Yoshi's Woolly World is now available in Europe and North America. 
☆ NintendObs Weekly – Monday, January 30, 2017 – Sunday, February 5, 2017.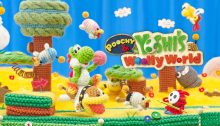 In shops and on Nintendo eShop now: Poochy & Yoshi's Woolly World

Unravel an adorable adventure, only on Nintendo 3DS family systems.

Version française ici : Poochy & Yoshi's Woolly World est disponible en boutique et sur le Nintendo eShop. 😉

03/02/2017

Join Yoshi and his adorable friend Poochy for a dyed-in-the-wool platforming adventure that's bursting with colour and texture in Poochy & Yoshi's Woolly World, out now only on Nintendo 3DS family systems! Read all about it at our official Poochy & Yoshi's Woolly World website.

That naughty knitwit Kamek has invaded Craft Island and turned most of the Yoshis into yarn with his magic. Oh no! Not to worry – the remaining Yoshis on this island paradise knit together and set off to rescue their friends, with the help of the ever-loveable Poochy, of course. On your adventure, you'll explore every level from Yoshi's Woolly World on Wii U, and discover a number of extra courses where Poochy takes centre stage!

This loveable little scamp is always happy to give Yoshi a ride – he can run across obstacles that Yoshi can't handle alone, and he's pretty good at jumping to collect beads, too! In the laid-back Mellow Mode, the Poochy Pups will even sniff out secrets for you. Glad to have you along for the ride, Poochy!

Of course, Yoshi's got a whole knitting kit full of tricks himself. Unthread walls with a flick of Yoshi's tongue, throw Yarn Balls to knit in new platforms and Flutter Jump to areas that seem just out of reach. At certain points, Yoshi can even enter a Transformation Door and re-thread into fun new forms, including Umbrella Yoshi, Moto Yoshi and the gigantic Mega Yoshi!

With the Yarn Poochy amiibo (sold separately or as part of a software bundle) you can enlist Poochy's help at any time! Other amiibo (sold separately) can let you play with Double Yoshi in single-player mode, save Yoshi patterns, or unlock Yoshi patterns based on other famous characters!

Want to see more of Poochy and Yoshi? See them going about their daily lives in 30 animated shorts in Yoshi Theatre – check some of them out now on the official Poochy & Yoshi's Woolly World website! While you're there, you can download a free demo*, too!

Poochy & Yoshi's Woolly World is available in shops and as a downloadable version from Nintendo eShop on Nintendo 3DS family now. A bundle containing the game and Poochy amiibo is also available now**.

— Nintendo UK News
Source: Nintendo UK.
At NintendObserver, the comments are on Discord.
Click on Community to learn more. 🙂
…
…Wanna play? Buy a 3DS.
And if you've already got yours, click on Poochy & Yoshi's Woolly World for everything you need to know about the game. 😀