I've only included information on Nintendo platform titles. Disgaea 5 Complete gets its Nintendo Switch release date. 
☆ NintendObs Weekly – Monday, February 13, 2017 – Sunday, February 19, 2017.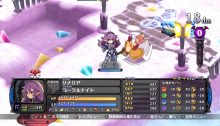 NISA 2017 PRESS EVENT WRAP UP

5 NEW TITLES, 6 RELEASE DATE REVEALS, AND MUCH MORE!

16 February

Hello, doods. Chris King here to give you the COMPLETE list of announcements we just made at our annual press event in San Francisco. We've got 5 brand-new titles, 6 confirmed release dates (including Danganronpa V3 and Disgaea 5 Complete), and much more. Let's just say… this year has now officially become the biggest line-up NIS America has ever had – like, ever!

Culdcept Revolt
Nintendo 3DS
Summer 2017

Next up is Culdcept Revolt for Nintendo 3DS! The game is a beautiful blend of three genres: collectible-card game, board-game, and strategy. If you're into deck-building and tabletop gaming, this one is definitely for you. With over 400 unique cards, inventive boards, and various strategies for hardcore CCG veterans, Culdcept Revolt is the best Culdcept yet!

RPG Maker Fes
Nintendo 3DS
Summer 2017

Have you ever wanted to develop your very own RPG? Well, here's your chance, dood! RPG Maker Fes for the Nintendo 3DS makes it easy for anyone to develop any RPG, with no programming skills needed. You'll be able to customize your characters, stories, event-flow, combat and much more!

We will also be releasing the RPG Maker Player as a free downloadable app on the Nintendo eShop. The RPG Maker Player app allows anybody who has downloaded the app to play other player's RPGs, absolutely free. Just download the app, and play! But of course, if you want to create your own RPGs, you'll have to purchase the game, dood.

Release Date Reveals

We also unleashed a massive amount of release date information for our titles – check them out below!

Disgaea 5 Complete
Nintendo Switch
May 23, 2017 (NA), May 26, 2017 (EU)

We've got quite the line-up this year, and it really wouldn't be possible without the support from all of you guys. So on behalf of NIS America, thank you for your support! We will be sharing a ton of updates for these titles throughout the year, so stay tuned for a bunch of awesome content, trailers, and blogs soon.

If you'd like to watch the whole presentation, check out our VOD on Twitch.

— Chris King
Source: NIS America.
At NintendObserver, the comments are on Discord.
Click on Community to learn more. 🙂
…
…Wanna play? Buy a 3DS.
And if you've already got yours, here are all the games already available on the platform. 😀