Genesect is November's Pokémon of the month.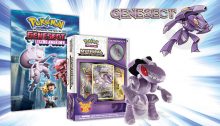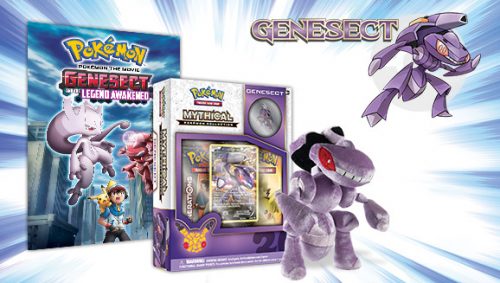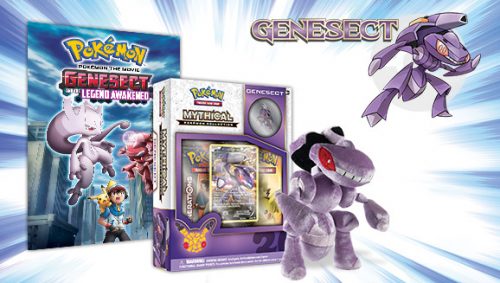 Have a Blast with Genesect in November

The Paleozoic Pokémon Genesect joins the Pokémon 20th fun.

November 01, 2016

It's Genesect's turn to shine as we approach the end of the yearlong Pokémon 20th celebration. Throughout November, you can encounter the Paleozoic Pokémon in a number of ways. Until November 24, you can get a Genesect for your Pokémon Omega Ruby, Pokémon Alpha Sapphire, Pokémon X, or Pokémon Y game by picking up a code at a participating GameStop store. Be sure to redeem the code you pick up by February 28, 2017! Visit Pokemon.com/20 for more details on this Genesect and how to unlock the power of its Techno Blast move.

While you're at GameStop, take a look at their cool, limited-edition 8″ Genesect plush and 2″ figures. These items are available only while supplies last, so check them out while you can.

Next, the Pokémon TCG: Mythical Pokémon Collection—Genesect launches on November 1 in the Pokémon Center and where Pokémon TCG products are sold. This impressive collection includes a special Genesect pin and promo card. It also includes two booster packs from the Pokémon TCG: Generations expansion to help you build your collection and prepare for your next battle.

For a limited time, head over to Pokémon TV to watch Pokémon the Movie: Genesect and the Legend Awakened in its entirety. Ash and Pikachu must confront a swarm of Genesect when they threaten to destroy the city's power supply! The battles become even more epic when the Legendary Pokémon Mewtwo joins the fray. Remember that you can watch Pokémon TV on your mobile device and on Apple TV and Roku. But don't wait, because Pokémon the Movie: Genesect and the Legend Awakened won't be shown long.

Don't miss out on Genesect throughout November in the penultimate month of the Pokémon 20th celebration!

— Pokémon News
Source: Pokémon.
At NintendObserver, the comments are on Discord.
Click on Community to learn more. 🙂
…
…Wanna play? Buy a 3DS.
And if you've already got yours, click on Pokémon for everything you need to know about the franchise. 😀