According to the infographic, 68 million copies of Dragon Quest games have been shipped worldwide. 
☆ NintendObs Weekly – Monday, September 12, 2016 – Sunday, September 18, 2016.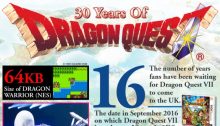 30 Years of Dragon Quest – Fun facts about a timeless RPG classic

Prepare for the launch of Dragon Quest VII: Fragments of the Forgotten Past with a 30th anniversary infographic!

14/09/2016

2016 not only marks the release of DRAGON QUEST VII: Fragments of the Forgotten Past for Nintendo 3DS Family Systems on 16th September, but also the 30th anniversary of the classic RPG series, which began life on the Famicom/Nintendo Entertainment System in 1986! To celebrate the anniversary we've produced a fun infographic showcasing the history of Dragon Quest in numbers. Read on below for more details of what to expect from DRAGON QUEST VII.

More fun facts about DRAGON QUEST VII: Fragments of the Forgotten Past

DRAGON QUEST VII: Fragments of the Forgotten Past introduces the story of Auster and his friends Prince Kiefer, Maribel, Ruff, Aishe and Sir Mervyn, who have to travel back in time in order to rescue the past and thereby create the future! On their journey, they stumble across more than 400 monsters.

DRAGON QUEST VII: Fragments of the Forgotten Past is an all-new story, which makes it enjoyable for both fans of and newcomers to the series, as you need no previous knowledge of the other titles. While the story overarches previous Dragon Quest adventures, each territory has a self-contained storyline that is relative to what happened in the past.

The Fragments of the Past referenced in the title are so-called tablet fragments that can be used to complete maps in order to access lost continents. A new radar called the fragment detector will make it easy to locate nearby tablets. Once a map is complete, the player will be transported to the location depicted. In DRAGON QUEST VII: Fragments of the Forgotten Past for Nintendo 3DS, there are items called traveller's tablets which, when exchanged with other players via StreetPass, can be collected and used to access special dungeons.

While Dragon Quest fans have so far already been able to enlist monsters to their party, they now even have an entire playable monster class that enables them to actually change their character into the monster that they've defeated. The iconic slime will be one of 34 different monsters to choose from.

During the game, you get to meet monsters disguised as humans who would like to live in peace. You can direct them towards the Haven. Monster Meadows on the other hand is a place where monsters befriended during battle can be sent to live peacefully. Monsters you fight will sometimes also give you the opportunity to send them to Monster Meadows once defeated. They can be sent to scout traveller's tablets in caves that only monsters can enter on behalf of the player.

In DRAGON QUEST VII: Fragments of the Forgotten Past, the gameplay alternates between exploration and battle phases. Contrary to the original versions, which featured random encounters, enemies are now visible on the map and will engage the player on sight.

Quests, especially when there are dragons involved, are long and challenging but always worth the ride. On top of that, there's post-game content, which makes it one of the longest Japanese RPGs ever created. In case the player is in need of a longer break between two different quests, a recap feature that summarizes past events has been added for players who have not played the game for some time.

DRAGON QUEST VII: Fragments of the Forgotten Past releases 16th September 2016 on Nintendo 3DS Family Systems. If you pre-order from the Nintendo Official UK Store then you'll also receive an exclusive Fan Pack including a slime window sticker and a poster featuring art work by Akira Toriyama!

If you enjoy this timeless RPG adventure then you can also look forward to the release of DRAGON QUEST VIII: Journey of the Cursed King in 2017!

2016 is a huge year for RPGs on Nintendo 3DS! For more info, see our Top 10 #3DSAdventures article where you can read about more great Japanese RPGs released this year and enter a contest to win a New Nintendo 3DS XL!

— Nintendo UK News
Source: Nintendo UK.
At NintendObserver, the comments are on Discord.
Click on Community to learn more. 🙂
…
…Wanna play? Buy a 3DS.
And if you've already got yours, click on Dragon Quest VII Fragments of the Forgotten Past for everything you need to know about the game. 😀