Victini is the new Pokémon of the month.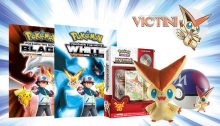 Victini Means Victory in September

Catch the Mythical Pokémon said to bring luck to Trainers as part of the Pokémon 20th celebration.

September 01, 2016

Victini is the next Mythical Pokémon featured in the Pokémon 20th celebration! From September 1–24, you can receive the Victory Pokémon via Nintendo Network for your Pokémon Omega Ruby, Pokémon Alpha Sapphire, Pokémon X, or Pokémon Y video game.

Also, for a limited time, catch Pokémon the Movie: Black—Victini and Reshiram and Pokémon the Movie: White—Victini and Zekrom, where the Mythical Pokémon is the key to one man's quest to restore a lost kingdom. Watch these adventures on Pokemon.com, the Pokémon TV mobile app, the iTunes Store, Google Play, and Amazon Video.

The Victory Pokémon also arrives in the Pokémon Trading Card Game: Mythical Pokémon Collection—Victini. Each collection includes a Victini pin, a full-art Victini promo card, and two booster packs from the special Pokémon TCG: Generations expansion. Look for the Mythical Pokémon Collection—Victini wherever Pokémon TCG products are sold.

Special limited-edition Victini figures and plush are also available during September at participating Toys"R"Us stores. Collect the 8″ crushed-velvet Victini plush and the 2″ Victini figure, which includes a Master Ball with a pearlescent finish. Be sure to catch them before September comes to a close!

Celebrate 20 years of Pokémon with Victini during September. And for even more Pokémon 20th activities and fun, be sure to visit Pokemon.com/20 throughout the year!

— Pokémon News
Source: Pokémon.
At NintendObserver, the comments are on Discord.
Click on Community to learn more. 🙂
…
…Wanna play? Buy a 3DS.
And if you've already got yours, click on Pokémon for everything you need to know about the franchise. 😀