Let's see if Japan is going to take it home again this time. 
☆ NintendObs Weekly – Monday, August 8, 2016 – Sunday, August 14, 2016.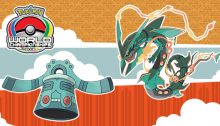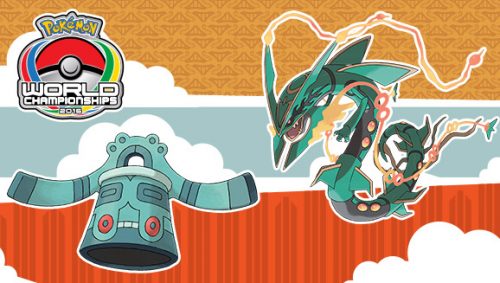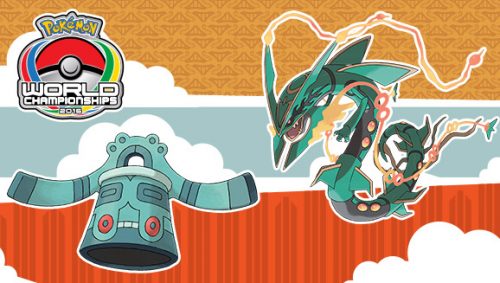 Video Game World Championships Primer

From August 19–21, the top Pokémon Trainers of the world will compete for the title of Pokémon World Champion and more than $500,000 in prizes at the Pokémon World Championships in San Francisco. The Pokémon Video Game World Championships will use the 2016 Video Game Championships format. In this format, each player is allowed to select for their teams two extremely powerful Legendary Pokémon—such as Mewtwo and Groudon—that are normally prohibited from play. The Pokémon World Championships, played on Pokémon Omega Ruby and Pokémon Alpha Sapphire, is sure to be full of memorable battles as these behemoths duke it out to become immortalized with their Trainers as Pokémon World Champions.

You can watch all the action on our live stream during all three days of competition at Pokemon.com/Live starting at 9 a.m. PST on Friday, August 19. Read on to find out more about the tournament format, some players to look out for, and which Pokémon we expect to make the biggest difference in San Francisco.

Tournament Format

The Pokémon Video Game World Championships are an invitation-only event consisting of three separate tournaments divided by age divisions. Top players in the North American, European, Latin American, and Asia Pacific rating zones qualified for the World Championships by earning more Championship Points than their peers throughout tournaments in the 2016 Championship Series season. Players in South Korea and Japan qualified for the Pokémon World Championships through impressive finishes in their respective National Championships.

If Trainers want to be the very best, they'll have to come out on top after three days of intense battles. Most qualified Trainers will start their battles on Friday after the opening ceremonies. Trainers will battle through Swiss rounds against other top competitors and must finish play on Friday with two or fewer losses to make it to Saturday. If players pick up a third loss, their shot at the World Championships will be over—for this season.

Players moving on from Friday will be joined on Saturday by the very top players from each region who qualified directly for Day 2 based on their exceptional performances in their home regions. A second set of Swiss rounds will begin on Saturday, but this time the players who end with two or fewer losses will move on to a single-elimination Top Cut bracket.

The single-elimination portion of the tournament will conclude on the main stage on Sunday, where the winners will be crowned World Champion for their age division. Each stage of the tournament will be broadcast on Pokemon.com/Live, so make sure to root for your local players.

Training a Winning Team

Veterans of the Pokémon World Championships often talk about how different the metagame at the World Championships tends to be compared to other tournaments. One big change is that with a smaller pool of players competing than in most other tournaments, some Trainers will try to adjust their teams to gain advantages against strategies favored by their most respected competitors. But the biggest twist is that players using conventional teams must focus more on anticipating which Pokémon their opponents will use and bringing the best Pokémon to counter them.

It's almost impossible to win the World Championships just by creating a powerful team. Each of these experienced competitors knows which Pokémon are the most powerful in terms of raw strength after almost a full year of playing the same format. They are very familiar with dominant pairings of restricted Pokémon, including Groudon with Xerneas, Kyogre with Rayquaza, Groudon with Kyogre, Groudon with Yveltal, and even Groudon with Rayquaza. Each of these veterans have learned that Smeargle's Dark Void attack is one to be feared, and that Mega Salamence and Mega Kangaskhan are this format's most versatile Mega Evolved Pokémon.

After selecting their duo of restricted Pokémon, all Trainers in serious contention for a World Championship will need to consider the teammates that will help them handle each of the teams in the field. To that end, we've seen shifts in supportive Pokémon all season. For instance, Bronzong surged at the recent US National Championships as a response to the popularity of Xerneas in North America, and we've already seen players try to counter Bronzong with the Dark- and Ice-type Weavile.

Some Trainers may even want to go a step further than that and try to bring a Pokémon with a move or Ability that can take on the most popular supportive Pokémon. This is a great example of the thought process many top players go through as they prepare for the World Championships.

A well-crafted team and solid, smart play over the course of the weekend is necessary for any player to win at Worlds, but a huge part of performing well in a high-level Pokémon tournament is bringing an appropriate team. Pokémon like Bronzong, Cresselia, Thundurus, Salamence, Kangaskhan, and Smeargle should be where players start thinking about their World Championships plans, not where they stop. That may mean trying out new Pokémon, such as how Sejun Park won the 2014 World Championships by using his Pachirisu. Pachirisu performed a similar role by using Follow Me as the much more common Amoonguss did, but it did so with the added benefit of resisting the popular Talonflame's Brave Bird and without the risk of opposing Grass-type Pokémon being able to ignore the effect of Rage Powder. Or innovation could instead come in the form of something like Grant Weldon's Bronzong from US Nationals, which used the move Imprison to counter the many Trainers with strategies based around Cresselia or Bronzong's Trick Room.

Whatever the source, it will almost definitely be tricks from unrestricted Pokémon that make the difference in helping a Trainer win the World Championship this season. Restricted Legendary Pokémon like Groudon and Rayquaza may be the Pokémon dishing out damage in most matches, but it's the Pokémon next to them that allow them to deal damage safely.

Day One Players to Watch

Day One will feature several players who have already had illustrious careers at past World Championships. A cadre of United States players who have made it to the Top Cut of the Pokémon video game's greatest stage in the past earned Day One invitations this season, including 2012 runner-up Wolfe Glick and 2014 runner-up Jeudy Azzarelli. The US will also be sending some players who have previously dominated the World Championships' younger age divisions to this year's Masters Division competition, including former Senior World Champions Nikolai Zielinski (2015) and Toler Webb (2012).

The UK's Lee Provost and Daniel Nolan, and Italy's Francesco Pardini, have also earned Day One invitations in 2016 after making it to the Top Cut of past World Championships. The UK will be sending reigning Senior Division World Champion Mark McQuillan to San Francisco, though he has now graduated to the Masters Division. These Trainers will be joined on Day One by two other notable stars from Europe: commentators Markus Stadter and Nemanja Sandic. Keep an eye out for these knowledgeable Trainers as they put their insight on display and return to competitive play on the battlefield in San Francisco!

The story out of the first day of last season's World Championships was domination by players from Japan. That narrative continued all the way through the finals, with seven of the top eight finishers hailing from Japan. The huge number of top players from the rest of the world competing on Day One should quickly give an indication about whether or not that story is likely to repeat itself in 2016. Before play commences, the Japanese competitors are all seen as heavy favorites to make it through to Day Two.

Stars on Display on Saturday

The Trainers who make it through to Saturday will be serious contenders to win the World Championships, but they will be facing a pool of impressive opponents.

The top Trainers from Europe look particularly imposing entering the competition this year. 2013 World Champion Arash Ommati of Italy dominated the Germany National Championships using two Pokémon we haven't seen much from other top players: Yveltal and Jumpluff. He has been focused on winning another World Championship this season, and he could be poised to pull it off. Spain's Alex Gomez won the first National Championship in Europe this season with incredible play featuring the combination of Kyogre and Groudon. His championship run included an awe-inspiring semifinal match against fellow Spanish star Eric Rios's Rayquaza and Kyogre team. With veterans like Germany's Tobias Koschitzki, Matthias Suchodolski, and Baris Akcos also already qualified for Day Two, this group could represent the best shot for a Western player to win the Masters Division World Championship for the first time since the release of Pokémon X and Pokémon Y.

The most respected group of players entering the competition comes from Japan, a nation known for its skilled players and innovative Pokémon tactics. Standouts include last year's World Championship finalists—Shoma Honami and Hideyuki Taida—as well as last year's Japanese National Champion, Yosuke Isagi. They'll be joined by the top players from this year's Japan National Championships, including Champion Koutake Hideo. Koutake's team of Sylveon, Talonflame, Cresselia, Smeargle, Rayquaza, and Groudon was very different from the Xerneas and Groudon team many fans expected to come out on top in Japan. Since Japan's National Championship is widely considered the most difficult to win, Koutake and fellow finalists are worth keeping a close eye on.

Many of the other players qualified for Day Two of the 2016 World Championships are less tested on Pokémon's largest stage. The United States, once a dominant force at the World Championships, is sending a different roster this year compared to recent seasons. With mainstays like Aaron Zheng and Ray Rizzo exiting the field for commentary, and with other established stars like Wolfe Glick and Toler Webb stuck battling it out on Friday, it may be down to players like US National Championship finalists Chase Lybbert and Aaron Traylor to try to get the US back into the Masters Division Top Cut after missing out in 2015. South Korea will also be missing its most famous player as 2014 World Champion Sejun Park and his Pachirisu will be sitting out the video game tournament this year as Sejun competes for a Pokémon TCG crown.

These are just some of the more decorated competitors at the 2016 Pokémon Video Game World Championships. You can see the full list of invitees for yourself in this handy PDF. Stay tuned to Pokemon.com for more coverage of the Pokémon World Championships. Check out all the action live on Pokemon.com/Live starting on August 19, and remember to check out Pokemon.com/Strategy for more Pokémon TCG and video game strategy articles and tournament coverage.

Source: Pokémon.
At NintendObserver, the comments are on Discord.
Click on Community to learn more. 🙂
…
And if you've already got yours, click on Pokémon Omega Ruby and Alpha Sapphire for everything you need to know about the games. 😀