3DS getting celebrity endorsement across the pond. 
☆ NintendObs Weekly – Monday, July 25, 2016 – Sunday, July 31, 2016.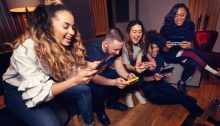 Ella Eyre's top Nintendo 3DS games to play with friends

Singer-songwriter Ella Eyre shares her Life in Nintendo 3DS.

26/07/2016

Singer-songwriter Ella Eyre shares her Life in Nintendo 3DS, giving an exclusive behind-the-scenes look at her life and how she plays games with her best friends during downtime.

"I love playing video games, they stimulate my brain in a different way," says Ella. "It's a bit of an escape and it's so accessible to find a game that suits your personality and play style. I don't think you're ever too old to play, and sometimes that means getting a Nintendo 3DS out and forgetting reality for a while."

Ella's love for games spills into her family and friends' lives too. The singer-songwriter often spends her downtime hanging with her nearest and dearest pals. Whether it's helping each other's Mii characters realise their hopes and dreams in Tomodachi Life, letting their imaginations run free as they hone their design skills in Animal Crossing: Happy Home Designer, or just getting competitive with her band mates in Mario Kart 7, games have always been centre stage in her life.

Find out more about Ella's favourite games to play with her friends:

The bonkers one: Tomodachi Life

Ella loves playing Tomodachi Life with her friend Chloe. A creative soul, Ella loves getting carried away with the fictional goings-on of her island. "I'm away from home a lot, so I love things that give me a sense of familiarity. It really makes me laugh to see my favourite people being silly… It reminds me that even if I'm not with them, I can still watch them mess around together."

The creative one: Animal Crossing: Happy Home Designer

Ella has taken inspiration for designing her new flat by experimenting with different themes, layouts and items in Animal Crossing: Happy Home Designer. Ella and her friends Nana and Bethan put their decorating skills to the test to design facilities, homes and gardens for their animal friends. The girls also share their design tips and their finished designs.

The speedy one: Mario Kart 7

Ella and her band spend a lot of time on the road and rehearsing together, so they love to play Mario Kart 7 to let off steam and enjoy some healthy competition. Ella and her band love competing in Mario Kart, whether it's who's fastest or who's won the most races. She always makes sure to choose her lucky charm driver, Yoshi, as well as the best kart frame, tyres and glider to create the custom kart to give her the best chance of taking first place.

Ella loves the variety of tracks that have different themes and the great attention to detail in the design, and has a few tips to help make winning easier. Her biggest tip is to keep calm, secondly once you've sussed out the track, Ella recommends to use the shortcuts – it's more fun! – and finally, always use your items wisely. Don't fire them all off in a panic, save them for when you need to get ahead!

The stylish one: Nintendo Presents: New Style Boutique 2 – Fashion Forward

Ella absolutely loves style and fashion, and as her real-life stylist works with Ella on clothes, hair and make-up for events, Ella turns to Nintendo Presents: New Style Boutique 2 – Fashion Forward for tips on pushing her style boundaries by testing colour clash outfits, lipstick shades and even orange highlights.

Ella builds her reputation for styling in the game by carefully selecting her customers' outfits and encouraging them to experiment with new hair and make-up looks that match their new style. To top it all off, she gets to strut her stuff in fashion shows that all her customers are dying to attend!

Watch more videos from Ella Eyre and be part of the conversation by sharing your own #3DSLife on Twitter and Instagram.

— Nintendo UK News
Source: Nintendo UK.
At NintendObserver, the comments are on Discord.
Click on Community to learn more. 🙂
…
…Wanna play? Buy a 3DS.
And if you've already got yours, here are all the games already available on the platform. 😀