It all came down to a double Protect. 
☆ NintendObs Weekly – Monday, July 11, 2016 – Sunday, July 17, 2016.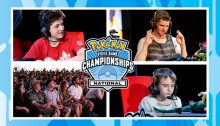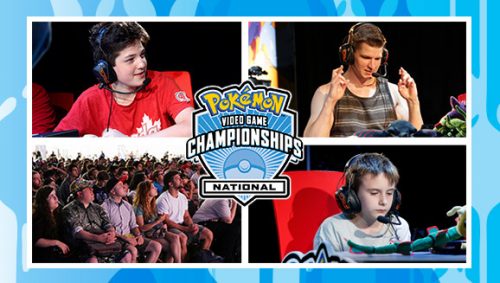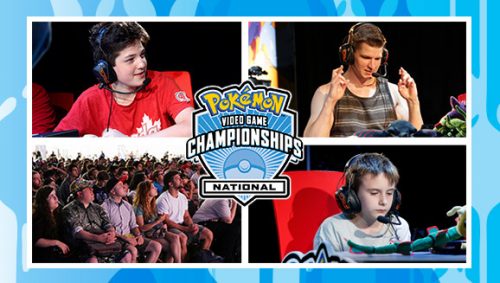 The 2016 US Video Game National Championships Are Complete

Look back at a wonderful weekend of Pokémon competition and camaraderie.

July 03, 2016

After three days of exciting battles, the 2016 US Pokémon Video Game National Championships are in the books. Hundreds of players competed with the dream of becoming National Champion, and in the end three deserving Trainers were able to finish the weekend with a victory on the big stage. Congratulations to Junior Division Champion Enzo Reci, Senior Division Champion Carson St. Denis, and Masters Division Champion Chase Lybbert. You can check out all of the Masters, Senior, and Junior Division teams right here on Pokemon.com.

The players weren't just battling for the elusive title of National Champion. Top finishers received huge amounts of Championship Points, which greatly increased their chances of earning a Travel Award and a Day Two Invitation to the 2016 World Championships this August in San Francisco, CA. Video Game players at the US Pokémon National Championships were also battling for over $50,000 in prizes, so everyone was sure to bring their best.

At the beginning of Sunday, 24 players remaining in the Junior and Senior Divisions, while only four Trainers remained in the Masters Division. Each of the finals were broadcast live on Pokemon.com/Live, with the Junior Division starting off first.

Enzo Reci and Cory Connor were the final players remaining in the Junior Division. Both Trainers used similar teams, with Talonflame, Xerneas, Kangaskhan, and Smeargle appearing on the teams of both players. Enzo Reci finished his team with the more conventional Salamence and Groudon, while 2014 US National Champion Cory Connor bucked trends by completing his team with Thundurus and Kyogre. Groudon was able to triumph over Kyogre and help Xerneas achieve victory in the Junior Division. The top players in the Junior Division have been extremely consistent all season, so we expect to see great things from Champion Enzo Reci, runner-up Cory Connor, and all of the top Junior Division players at the 2016 World Championships next month.

The final four players remaining in the Senior Division were an extremely accomplished group of players. 2013 Junior World Champion Brendan Zheng and 2013 Junior National Champion Beau Berg may have seemed like favorites when the semifinals began to many spectators, but it was Carson St. Denis and Mihrab Samad that moved on to the finals. Many players consider Carson's duo of restricted Pokémon, Rayquaza and Kyogre, to have an advantage against the more common duo of Groudon and Xerneas used by Mihrab. After two exciting battles, each featuring a shocking turn where one of Mihrab's Pokémon knocked itself out with recoil damage, Carson was crowned the champion. Carson got the audience on its feet by making some sharp predictions to use Swords Dance safely on both his Scizor and Rayquaza, which proved too much for Mihrab to overcome.

Carson also accomplished the rare feat of winning the Video Game National Championships after having previously been a TCG National Champion in 2013. Remarkably, we almost saw a showdown between the 2013 TCG and Video Game Junior National Champions, but Beau and Carson wound up in different semi-final matches.

Only four players remained in the Masters Division when Sunday began. Aaron Traylor's Groudon and Xerneas team took on Grant Weldon's Groudon and Kyogre team. As Aaron mentioned when we interviewed him, Grant seemed to have the advantage because his Bronzong's Imprison greatly restricted the strategies Aaron's own Bronzong and Cresselia were trained to use. But with some careful maneuvering, Aaron was able to take the set in two games on the backs of his Groudon and Smeargle. With only two Groudon and Xerneas players remaining, it seemed like we might see a repeat of what happened in the Senior Division from Alan Schambers' Rayquaza and Kyogre team. But instead, it was Chase Lybbert that was able to win the match in two games and advance to the finals. In Game 1, Chase was able to use Trick Room to allow his Paralyzed Xerneas to take over the battle, and in Game 2 he was able to break open the game despite an early deficit in Pokémon remaining by getting his Groudon into a favorable position.

Battles between two teams featuring Groudon and Xerneas are always extremely close and difficult to predict, and the Masters Division finals were no exception. Aaron Traylor came out ahead with a big victory in Game 1, but Chase was able to storm back with an impressive Game 2 victory.

Chase took the advantage early in Game 3, dealing big damage to Aaron's Smeargle and Salamence without taking any damage in return. Chase's Groudon was able to score a critical hit with Precipice Blades on Aaron's Bronzong (which was vulnerable to Ground-type attacks because of Gravity), further increasing his lead. Aaron was able to take a knock out on Chase's Kangaskhan to tie the game at three Pokémon remaining. Aaron's Salamence was able to set Tailwind up as it fainted, and his Groudon was able to use Swords Dance safely, giving him one last chance to come back from a 3-2 deficit. It seemed like Aaron had brought the game back, but Chase was able to stall out Tailwind and then hit a vital double Protect to take a 1-0 victory in a duel between the two Groudon.

Congratulations to all our champions. Check out more coverage from the US Pokémon National Championships at Pokemon.com/Strategy, and keep tuned to Pokemon.com and Pokemon.com/Live to find out first about future events.

— Pokémon News
Source: Pokémon.
At NintendObserver, the comments are on Discord.
Click on Community to learn more. 🙂
…
And if you've already got yours, click on Pokémon Omega Ruby and Alpha Sapphire for everything you need to know about the games. 😀