ICYMI. But really, how could you? 
☆ NintendObs Weekly – Monday, July 18, 2016 – Sunday, July 24, 2016.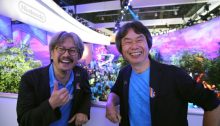 Miss E3? Catch up on all of Nintendo's coverage in our wrap-up news!

Learn about new games and watch footage from the show floor!

Version française ici : Vous avez raté l'E3 ? Rattrapez-vous avec ce récapitulatif des annonces faites par Nintendo sur le salon ! 😉

18/07/2016

E3 2016 has come and gone, and with it came lots of news from Nintendo about a variety of upcoming titles for Wii U and Nintendo 3DS family systems. If you didn't get the chance to see everything we had to offer, you're in the right place. Take a deep breath and have a gander at what Nintendo's E3 was all about in 2016!

In brief

This year, the focus was on The Legend of Zelda: Breath of the Wild, coming to Wii U and Nintendo's next system, codenamed NX, in 2017. Nintendo's E3 booth invited visitors into an immersive Hyrule-themed experience to play the next game in The Legend of Zelda series, while almost the entire first day of live stage show Nintendo Treehouse: Live at E3 was dedicated to the title, with the game's producer Mr Aonuma making plenty of appearances too. Also on the first day, the world got a look at the first live gameplay session of Pokémon Sun and Pokémon Moon! Have you decided who your starter is going to be yet?

On the second day, Nintendo Treehouse: Live at E3 moved on to showcase other titles, including the vibrant Paper Mario: Color Splash, Pokémon GO and several brand new titles for Nintendo 3DS family systems, including an RPG called Ever Oasis, the next game in the Mario Party series and puzzle-platformer BOXBOXBOY!

An open-air adventure

The star of the show was the eye-opening The Legend of Zelda: Breath of the Wild. This game is all about freedom, and there's a massive world to explore. It also breaks away from some of the series' conventions: now you must eat food to regain health, and you can clamber to the very top of towers, trees and mountains to get your bearings. Whatever you can see, you can reach, but you'll need to pay attention to the weather, as changes in climate can affect the environment! Whatever the weather, there are still plenty of Bokoblins waiting to battle you. You can even be stealthy and steal their weapons, leaving them scrambling around for rocks to hurl at you. Anyone fancy a game of Bokoblin baseball?

The Legend of Zelda: Breath of the Wild is compatible with amiibo. With the Wolf Link amiibo, you can bring Wolf Link into your game as a companion who will attack enemies and help you hunt – and if you complete the Cave of Shadows and carry over save data from The Legend of Zelda: Twilight Princess HD, he might stick around for longer, too. Plus, some new The Legend of Zelda amiibo based on this game will be released: Link (Archer), Link (Rider) and Guardian, which is the first amiibo with moveable parts. Take a look!

Aloha, Alola!

The latest era of Pokémon approaches in Pokémon Sun and Pokémon Moon, coming to Nintendo 3DS family systems on November 23rd. Your new adventures in Pokémon Sun and Pokémon Moon will take place on the tropical islands of the Alola region! The Alola region centres around four islands rich in natural beauty and an artificial island. Many Pokémon that have never been seen before occupy these islands.

Explore the desert

A brand new RPG from GREZZO is coming to Nintendo 3DS family systems in 2017: Ever Oasis! Venture into the savage desert and build your home up into a prosperous oasis, working with members of other tribes and fighting enemies in real-time battles. As you find more materials, you'll be able to grow new shops and gear, allowing you to take on tougher foes.

Party time!

There's no time to wait in Mario Party Star Rush, coming to Nintendo 3DS family systems on October 7th! In Mario's latest party, everybody takes their turns at the same time, trotting around the board game maps as differently coloured Toads and recruiting allies from the Mushroom Kingdom to help them out in a variety of minigames! Who will be your perfect partner?

Also on October 7th, new amiibo in the Super Mario Collection will be coming out: new poses for Wario, Rosalina and Donkey Kong, plus a glow in the dark Boo! Spooky! On November 4th, a new amiibo of Diddy Kong will also arrive, and some other Mushroom Kingdom favourites will get their first amiibo: Daisy and – finally – Waluigi!

Splash attack

A mystery is afoot in Paper Mario: Color Splash! On October 7th, help Mario and his friends find out just what's happened on Prism Island, which has lost loads of its colour. Investigate a paper-thin world, smash anything in sight with your Paint Hammer to restore colour and find hidden treasures, and use Battle Cards to deal out loads of flashy attacks to your enemies in this hilarious adventure!

Pokémon GO

Travel between the real world and the virtual world of Pokémon with Pokémon GO for iPhone and Android devices. With Pokémon GO, you'll discover Pokémon in a whole new world – your own! Pokémon GO is built on Niantic's Real World Gaming Platform and will use real locations to encourage players to search far and wide in the real world to discover Pokémon.

But wait, there's more!

We also showed off a few more games for Nintendo 3DS family systems. The recently released puzzle-platformer BOXBOXBOY! played a part, alongside some other exciting titles: Monster Hunter Generations™, DRAGON QUEST VII: Fragments of the Forgotten Past and Rhythm Paradise Megamix!

Please note: Rhythm Paradise Megamix is known as Rhythm Heaven Megamix in North America.

Nindies at E3

Last but not least, we also highlighted a handful of Nindie titles coming from some of our development partners over the next few months. On Wii U, we focused on Jotun: Valhalla Edition, Axiom Verge and Severed, while on Nintendo 3DS we featured Runbow Pocket and Severed!

Take a look at this video to find out more:

We hope you enjoyed all of our E3 coverage! As you can see, there's loads to look forward to over the next few months and beyond, so watch out for more updates on these games and more! Now if you'll excuse us, we have a Wolf Link amiibo we need to train…

— Nintendo UK News
Source: Nintendo UK.
At NintendObserver, the comments are on Discord.
Click on Community to learn more. 🙂
…
…Wanna play? Buy a Wii U.
And if you've already got yours, here are all the games already available on the platform. 😀